We are thrilled to present our winners for the 26th Annual Paint Ontario Show and Sale!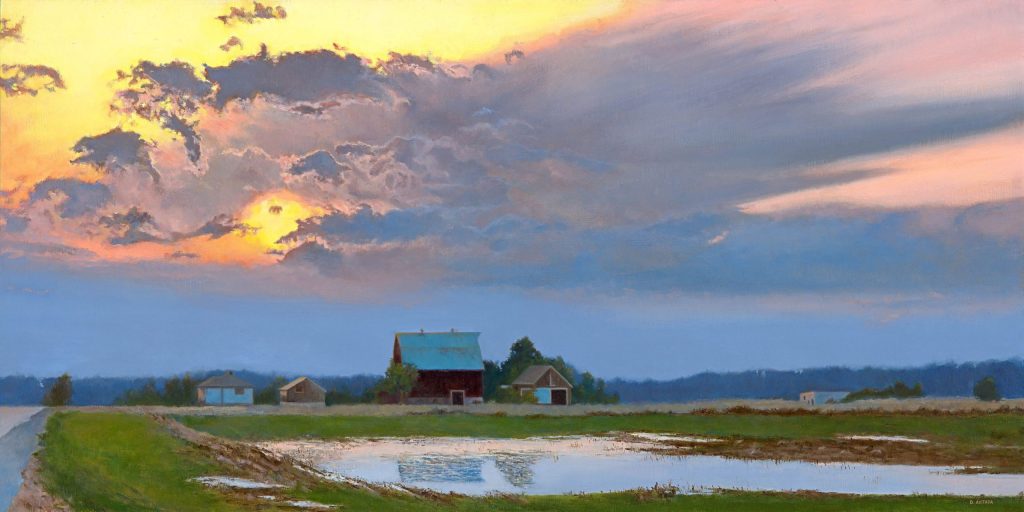 Grand Prize $2000
Award Sponsors: White Squirrel Golf Club and Paul Jennery GM Acura West London
"Second Generation" by Denise Antaya
Judge's comments: "What a truly spectacular work of art. Not only
was this piece exceptionally rendered with impeccable detail, the strong emotive energy off of this work was calm, settling and powerful. A perfect piece of art."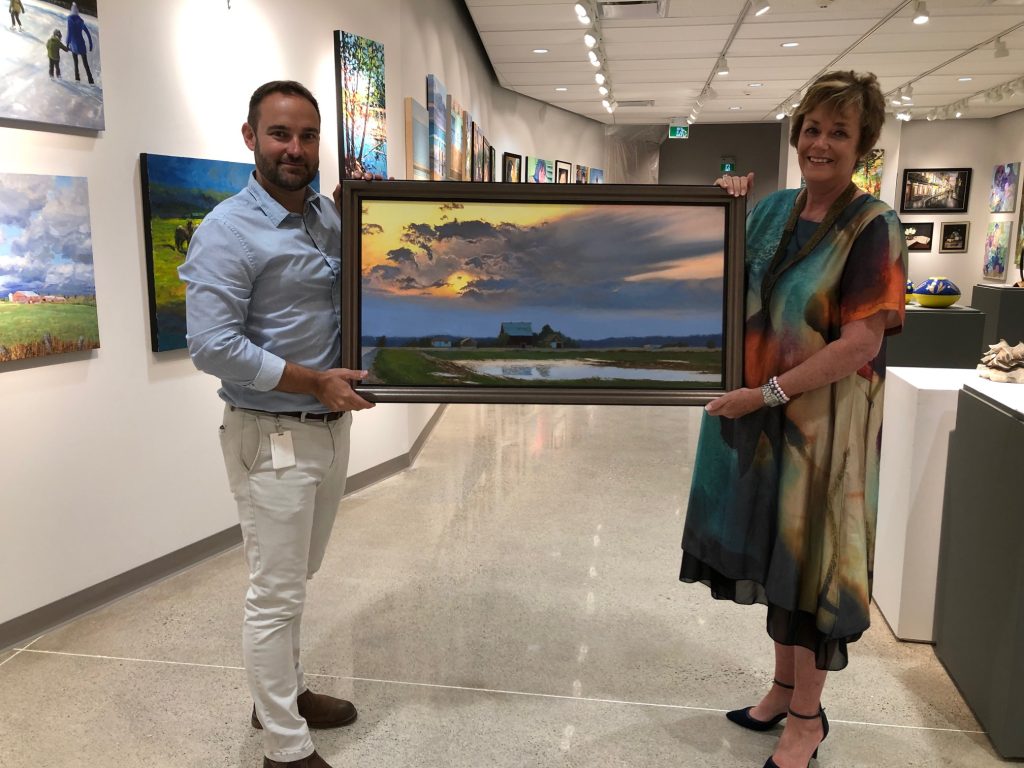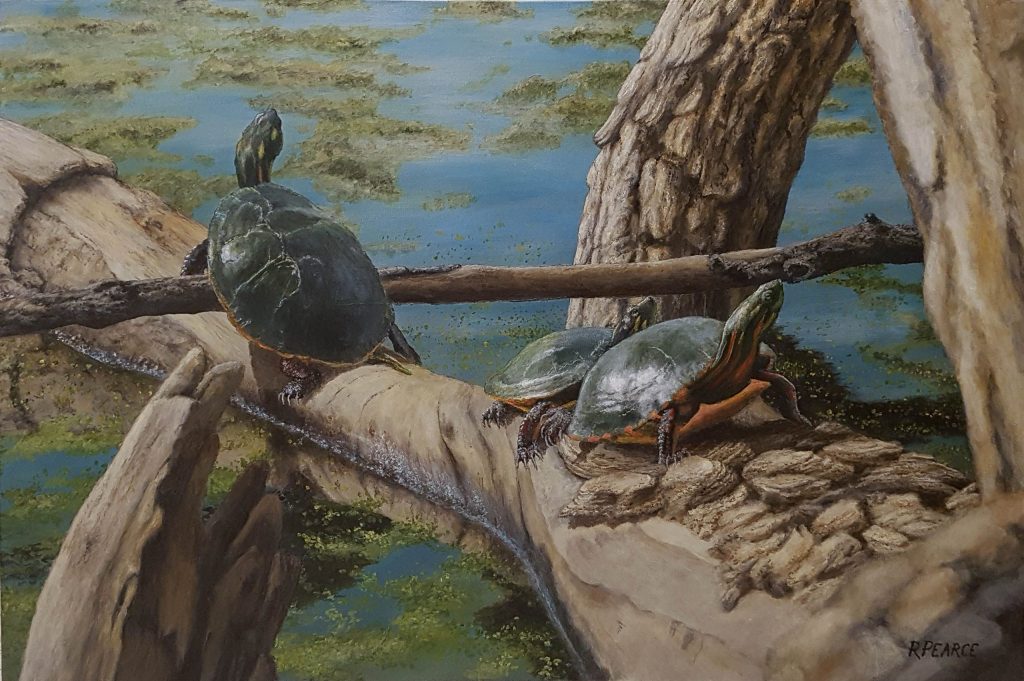 Painting Second Prize $500
Award Sponsor: Tourism Sarnia-Lambton
"Basking In Warmth" by Ron Pearce
Judge's comments: "This spectacular painting captures happy childhood memories of living in Ontario. The detail is phenomenal and the foreground brushwork is dazzling. I love the wonderful capturing of light as it bounces off the geometric turtle shells of this lazy pair on a warm morning."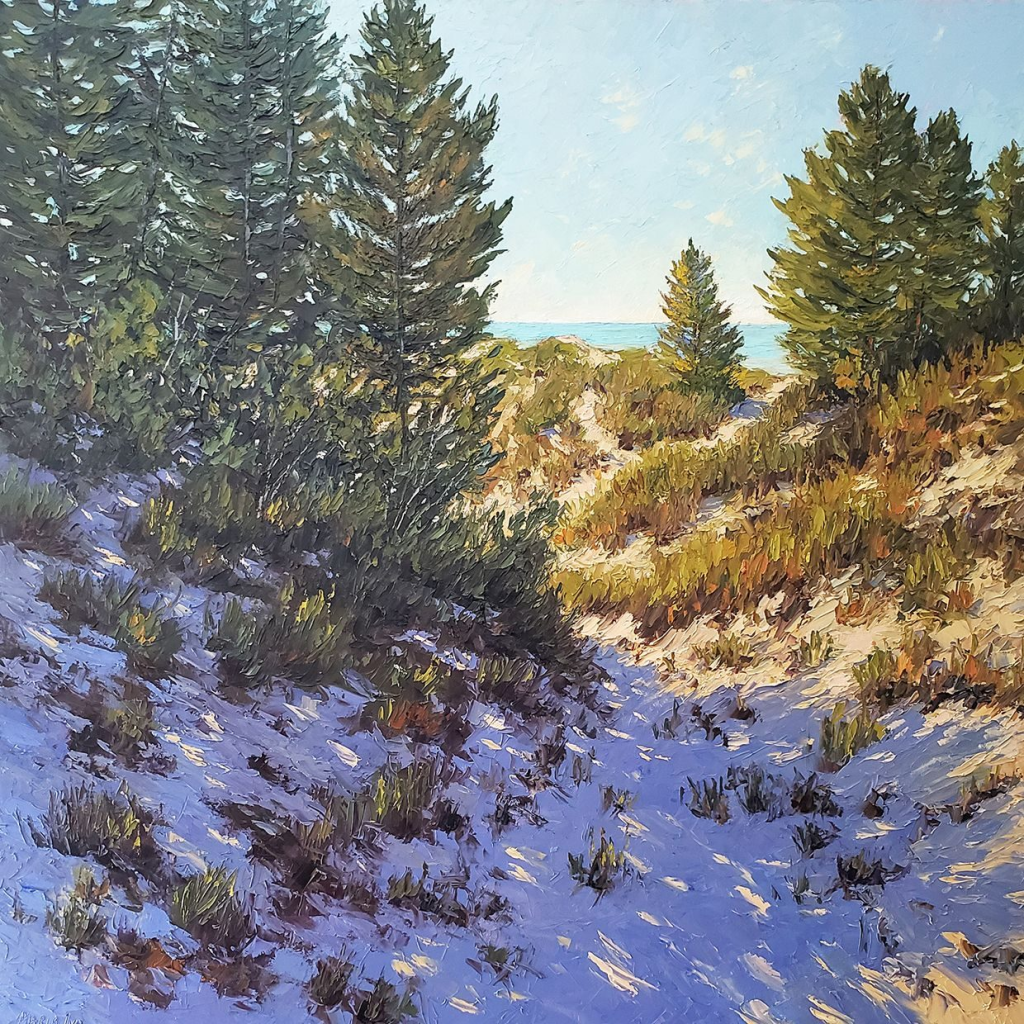 Painting Honourable Mention $250
Award Sponsor: Shirley Andraza
"Pinery Dunes" by Maria Iva
Judge's comments: "The narrative of this piece of art is so delightful. The work up of texture on the pine trees casts
the viewers eye skyward. The evocation of dapples of shadow across the sandy path leading to the turquoise waters is exquisite in detail. So well done!"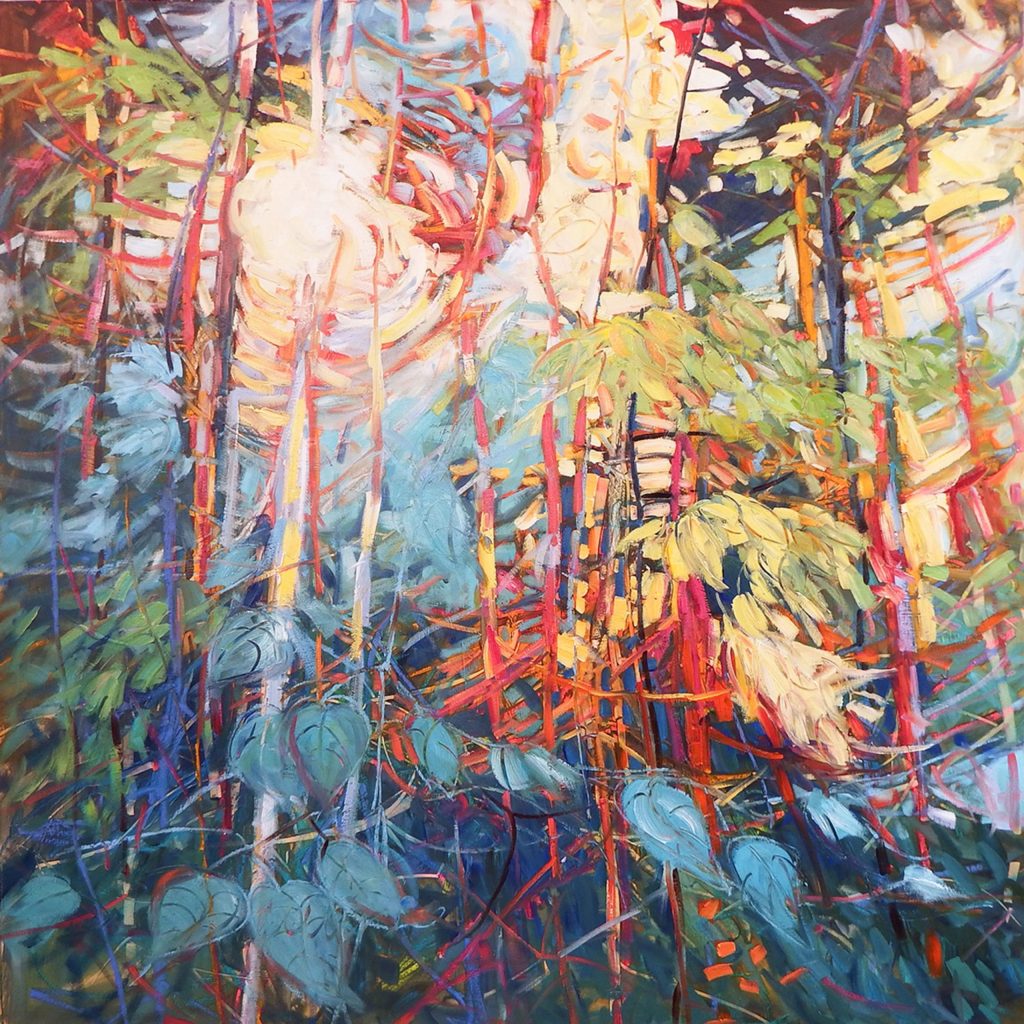 Painting Honourable Mention $250
Award Sponsor: West Coast Lion's Club of Grand Bend
"Beyond The Pale" by Sheila Davis
Judge's comments: "This dazzling work is so full of excitement and energy as the viewer gets caught up in the fast sweeping energetic brushstrokes. The composition of this work is so intriguing as your eye begs to rest on the intriguing calm forest floor. Perfect palette, perfect harmony and perfect composition."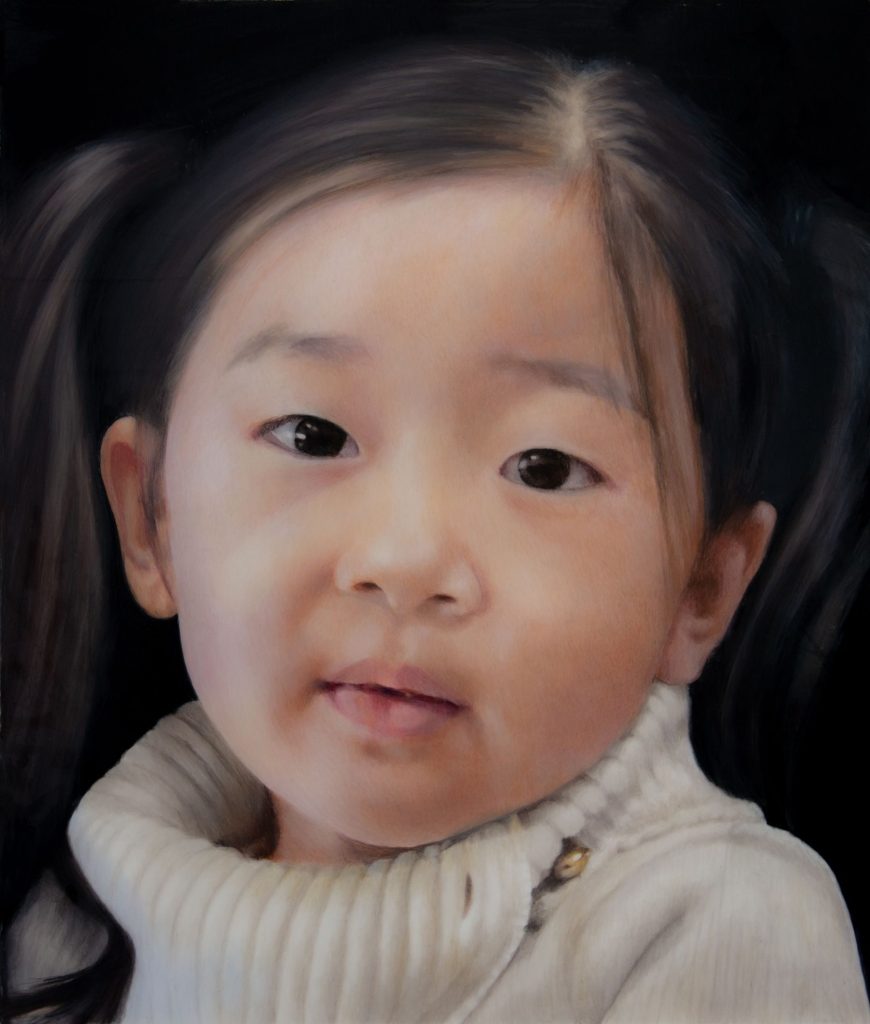 Portrait First Place $750
Award Sponsor: White Squirrel Golf Club
"Beguiling" by Bonnie Sheckter
Judge's comments: "This sweet young child captures your heart with her inky black and magnetic eyes. Why is this piece titled Beguiling? Is she? Magnificent detail in the neck of the collar and the strand of hair is wonderful as it gently dangles on the child's face. "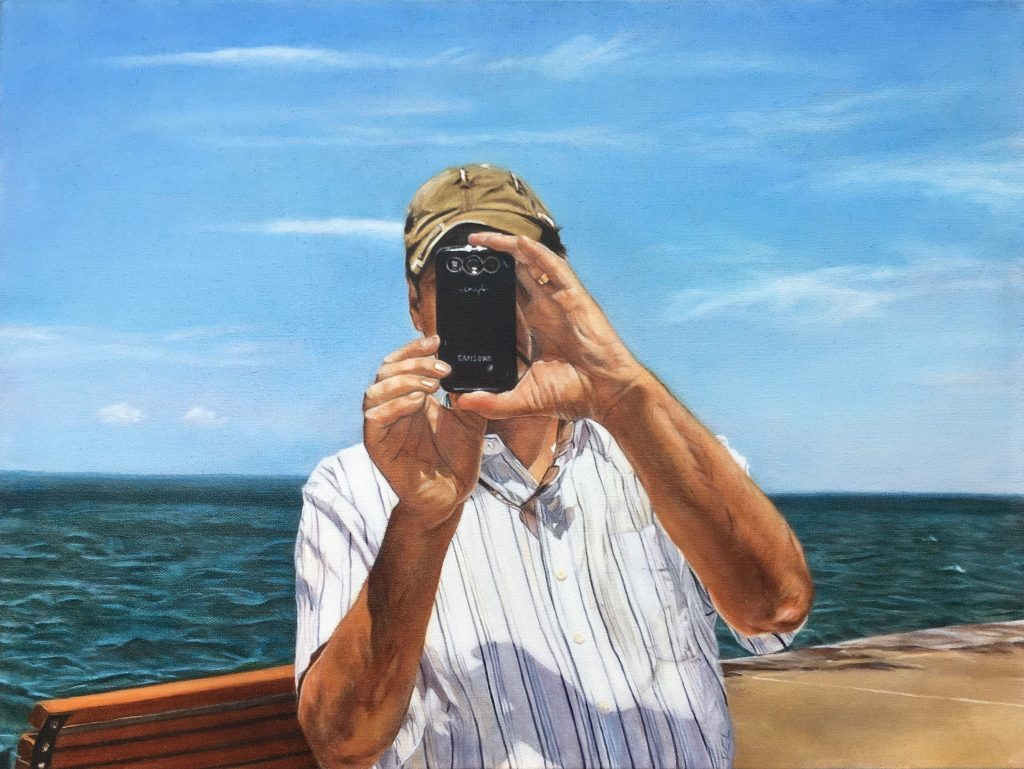 Portrait Honourable Mention $250
Award Sponsor: Joanne and Peter Janzen
"Gotcha" by Vanessa Cress Lokos
Judge's comments: "This every day scene which is so familiar to us calls us right to the focal point in the dead center of the painting – the cellphone. This piece is a thinker! While we do not have a rapport with the figure we do feel a sense of intimacy."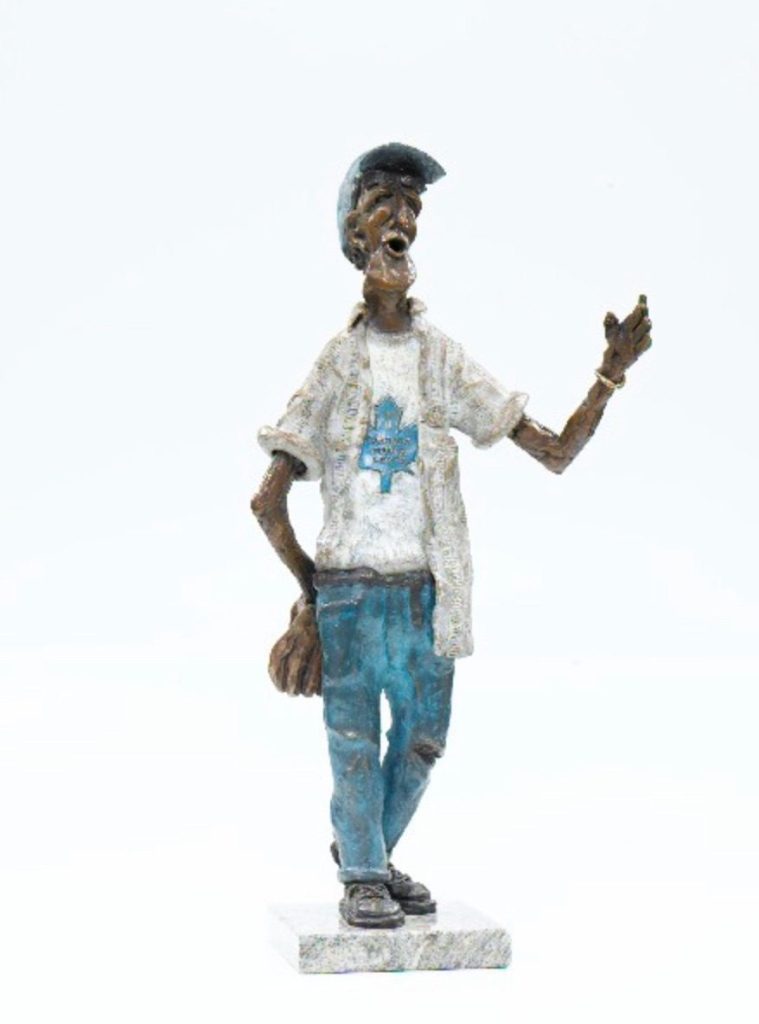 Sculpture First Prize $1000
Award Sponsor: White Squirrel Golf Club
"Gus" by John Clinton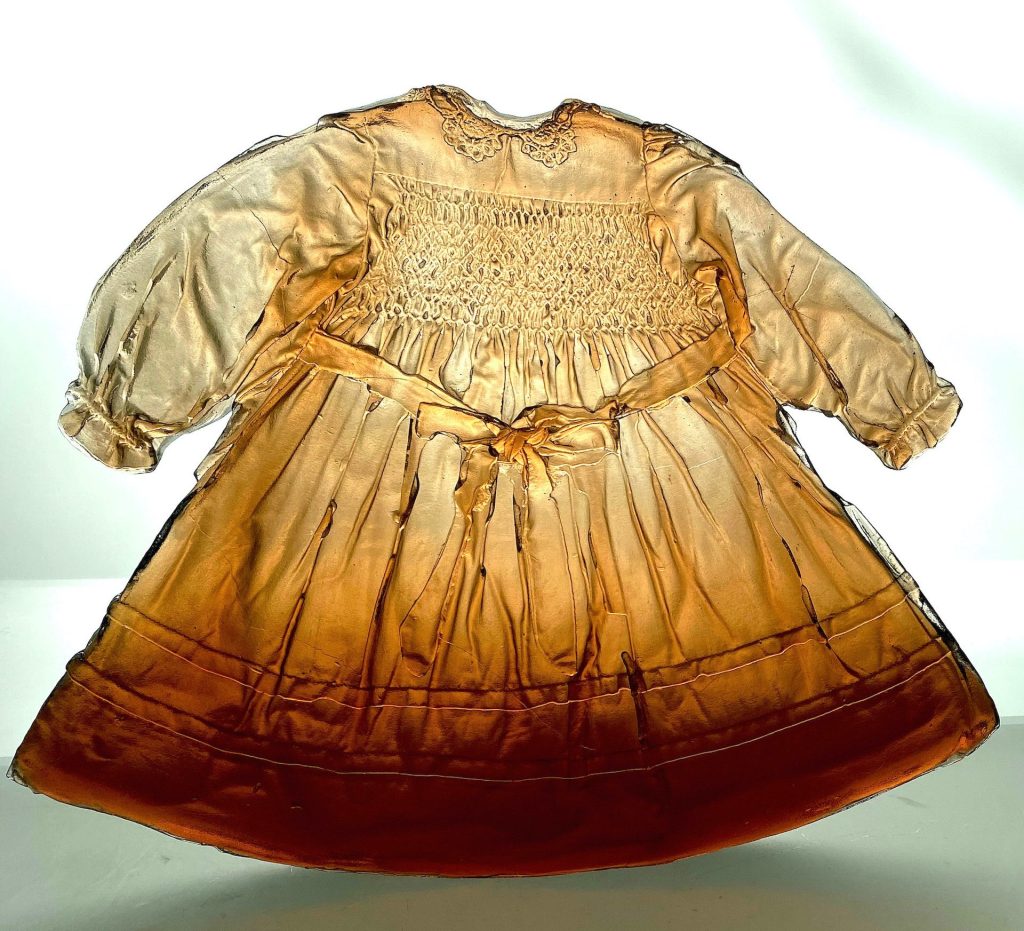 Sculpture Second Prize $500
Award Sponsor: CIBC Wood Gundy
"Gently Bound" by Mary Louise White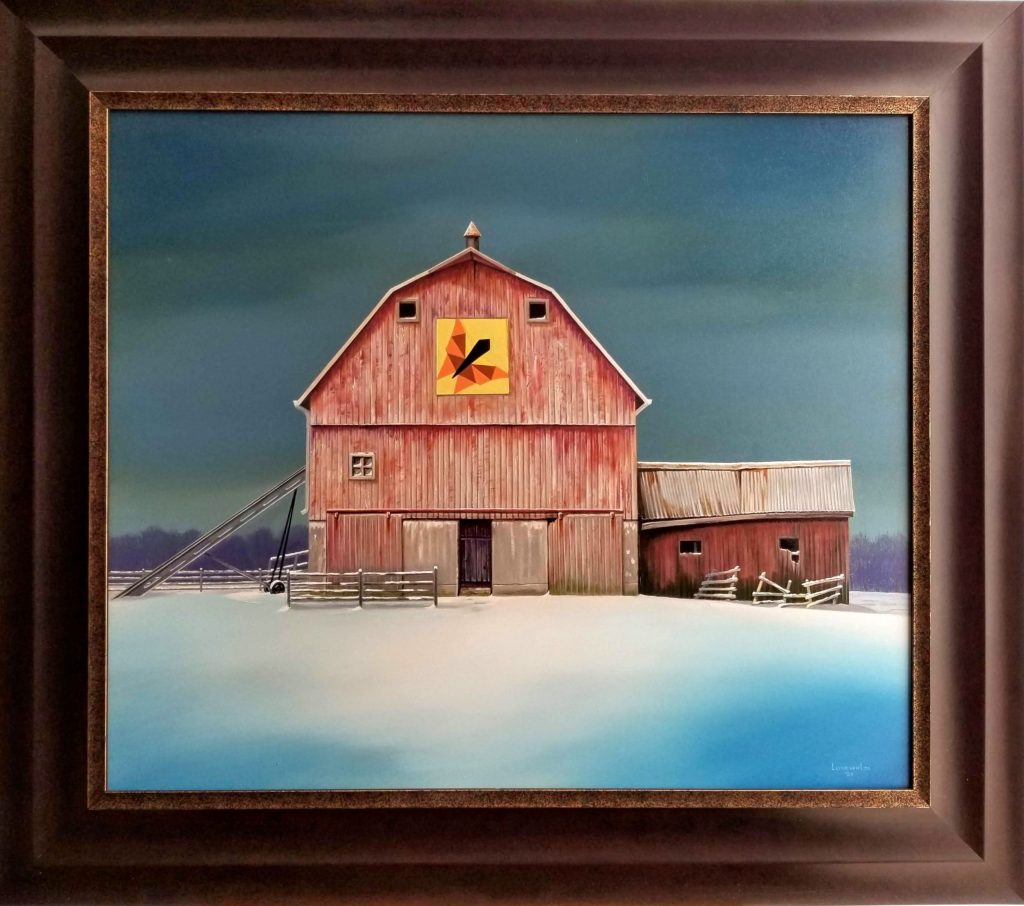 County of Lambton Award $1000
Award Sponsor: Presented by the Warden of Lambton County
"Solemn Survivor" by Layne Van Loo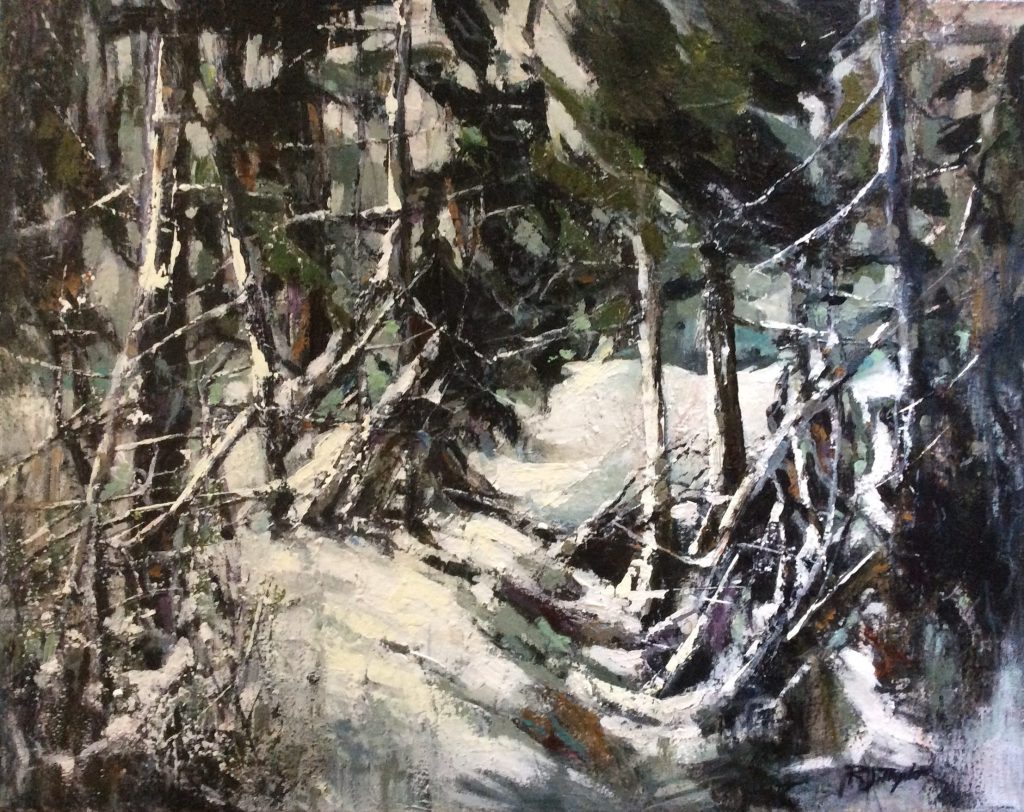 Mayor's Purchase Award $750
Award Sponsor: The winning painting becomes part of the Municipality of Lambton Shores' permanent collection.
"Snow Banks" by R. Jean Taylor
Sponsor Choice Awards
This category of awards is truly special as it is the sponsors themselves who choose the recipient of the $250 award. This means that, out of all of the beautiful artwork, a particular work resonated with the sponsor in a meaningful way. Several of these choice awards are bestorwed in honour of a beloved family member or friend. We are so grateful for the patronage and support of these sponsors and know that every artist feels especially honoured and thankful to be recognized in this way.
Please see the photo descriptions for artist and sponsor names.
"All Decked Out" by Marion Anderson Sponsor: Agnes Quinn IHO Bruce G. Hiscott

"Island Haven" by Marianne Braid Sponsor: 'The Pedlar Team' ReMax Bluewater Realty

"Autumn Whispers" by Sylvie Cermak Sponsor: Rotary Club of Grand Bend

"Lazy Daisies" by Bill Colley Sponsor: Execulink

"Spring For Sale" by Astra Nams Sponsor: Drs. Lindy & Bill Steele

"The Heart of the Village" by Barbara McLeod Sponsor: Teresa & Peter Phillips IHO Rosemarie Croswell

"On The Edge Of Real" by Patricia MacDonald Sponsor: Jim Quenneville EXP Realty Brokerage

"Woodland Reflections" by John Lightfoot Sponsor: Dr. Deb McNaughton IHO Doris and Tom McNaughton

"Summer Bank" by Cathy Groulx Sponsor: Valorie Scatcherd and Family IHO Dave Scatcherd

"Bald Eagle" by Tom Scanlan Sponsor: Pachlarz Family IHO Bruno Pachlarz"

"Ausable Plus" by Bill Schwarz Sponsor: Randi & Cam Ivey

"After The Spring Storm" by Sheryl Teasell Sponsor: DGH Holdings Inc.

"Thinking" by Elina Yaskovich Sponsor: Mac & Debbie Gilpin

"Spring Again" by Svetlana Goubanova Sponsor: Hay Communications

"Creek Reflections" by Cathy Groulx Sponsor: Doug & Jane Hurst