There is nothing average about Paul Abeleira – anyone who can marry cooking and painting together so seamlessly, and with such fun and passion, deserves a second glance. The name of his website says it all – 'icookandpaint.com'.
Paul is a young man, but his experience and skill does him great credit, both in the kitchen and on the canvas.  It started with the art… or did it? A large multicultural family was his playground for many years in both the kitchen and the studio, and he started to cook and paint at a very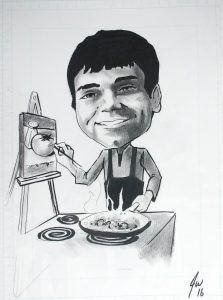 young age.  "Art was my whole life, but I also loved to cook and wanted to go to culinary school, so I did that first." Paul's thinking was that his love of cooking could help him to pay his way and feed his great passion, which truly was his art.
You only have to look closely at one of Paul Abeleira's detailed and thoughtful paintings to see his skill.  He is a painter in the style of 'realism' which means he works to paint life, exactly as it looks.  'Realism was the style of the old masters, but it's less common here now.  Now it's backwards, and a lot of people never learn the techniques and skills of realism," said Paul.  After culinary school, he trained in Fine Art at Western University, and then traveled to New York City to polish his skills at Grand Central Atelier, a prestigious academy that specializes in realism.
Paul does paint from 'life' and uses oil paint almost exclusively, as a lasting and flexible medium. His paintings are poignant and beautiful – whether it is a female portrait study, a bowl of glistening fruit, or a shiny, familiar can of Coke, all are executed with care and skill.  "I am a sucker for anything with shine – metal, glass, water.  It's difficult to make something shiny come to life, and I love that challenge."  He now teaches other painters, and follows the same passion. "It's rewarding," says Paul, "to help people over their struggle to get a certain effect, like a reflection on water, so that it will really glisten."  Paul has worked hard for years to master techniques and is happy to share his secrets with his students so that they can find success too.
And the cooking? Paul has been working successfully in the restaurant industry for many years to help support his art, but putting both of his passions together was the ultimate. "I really want to teach people how to cook," he said. "The art is in there because that is my life." That's where Icookandpaint.com came in.
Paul calls himself a 'Picture Painting Foodie' in the social media world.  He posts a variety of delicious recipes, and if you check out his video "How to Make Jelly Donuts" you will see a time-lapse video of him painting the donuts.  He has developed a following of foodie and artsie groupies and labels social media as 'super-powerful'.