How can something feel calm and colourful at the same time?  Artist Gwen Card somehow captures the magical light hiding deep in a lovely iris or in a face and brings it to life on a canvas.
Gwen is an informally trained artist who has, as with many artists, been interested in art or craftwork since she was a child.  "I can't not do something creative," says Gwen. She was born and raised in Woodstock, where she attended an arts-oriented high school.  She lived in different places in Ontario, and before moving to the London area in 2001, she was doing some folk art painting and selling it in St. Jacobs.  An art teacher saw Gwen's work there and encouraged her to take some fine art training. She took his advice and started taking a variety of art classes at Fanshawe College.  Painting became a focus and she continued to take painting classes with a local teacher
"I started with watercolour, thinking it would be the easiest, but I soon learned otherwise," she joked. Gwen moved on to paint with acrylic and now works with oil paint.  "I like the creaminess and the way you can blend soft edges with the oil paint.  The way I paint is with a lot of layers." She says she paints 'anything but landscapes' – portraits, still life, flowers, and dogs are a special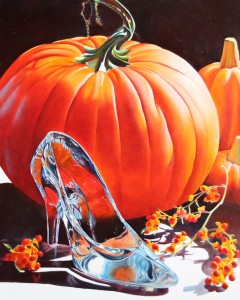 love.  Gwen's golden retriever passed away several years ago and she wanted to paint him in his memory.  People saw the picture and commissioned paintings.
"People say my paintings are unique because of the way I use light and shadow – I try to paint how the light affects the object it's hitting." Gwen paints in her home studio from a photograph she has taken, and says setting up the photo is the first part of her painting. "The light changes quickly and a photo can capture that one special moment. If I look at a photo I've taken and it makes me excited that is the best."
It's the transparent layers of paint that help Gwen to capture the light so well.  Rather than mix paint colours in the tray, she works slowly over several weeks to layer different transparent colours on top of each other to reach a unique effect of visual depth. "I like to get more intimate with my work and stop to smell the roses." Gwen's skill has been recognized several times, including at Paint Ontario where in different years she has received an Honourable Mention, Second Place, and the Rosemarie Crosswell award.
Paint Ontario has been a confidence-builder and great exposure for Gwen Card over the years – she says the show is getting better and better. "Every year the show draws artists from further away. The best part for me is the encouragement from everyone you meet, and the passion that everyone puts into their work."
You can see Gwen Card's art on her website – www.thefrontporchartstudio.com.