Donna Andreychuk's cozy Delaware studio is bursting with the colour and magic of the Canadian landscape – and that's a great match for the twinkle in her eye and the warmth in her smile.  You can tell this is a painter with heart, and one who loves what she does.
Donna is a 'self-taught' artist who paints primarily in oil and also with acrylic paints.  She grew up in a creative home on a farm in rural Ontario, and says, "My mom was a very 'crafty' person – that was just what we did." She owned a retail business in Hanover, Ontario, before moving to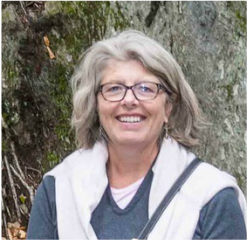 London in 1999 and immersing herself in local art programs. "Londoners should be very proud of our art community and what it has to offer. If there was something I didn't know how to do, I found classes to learn it."
Those skills show in Donna's paintings.  She paints on location in the spring, summer and fall, and says that helps to keep her 'eyes full of ideas' for the winter when she works from a combination of what she remembers, a photograph, and whatever she painted at the time. "If you paint outside, you study what you are looking at and it's in your memory."
Donna does not just paint what she sees, she paints what she feels. "My paintings don't necessarily look like what I am looking at – I paint what I feel that day. The biggest thing is capturing the essence of the landscape and the feeling of being outside."  And that is just what her paintings do best – capture the energy, movement and colour of nature, wherever she is.  "The scene does not have to be 'fancy' to me – there is always so much to see."
Canada's 150th anniversary was very special for Donna and her husband who were married on Canada Day. "I am a Canadian with both feet on the ground." When she travels outside Canada, she says she can appreciate the beauty there and learn from it, but it's Canada and Ontario that truly inspire her art.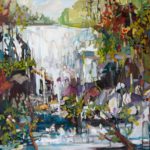 Donna will submit her work to the Paint Ontario show in March, where her paintings have been chosen as the Best in Show, or received honourable mention in the past. "The Paint Ontario show for me has been an important part of building my career. The calibre of the show keeps improving – when you put your signature on a piece for a large, juried show like Paint Ontario, you really pay attention and do your best."
Donna is glad to see the use of original art growing in Ontario. "If there is a particular piece that you fall in love with, chances are that it will fit in your home or in your world somewhere." She said there is a 'perfect place for every painting'. "It may take time to find that place, but when you do, it can be magic."