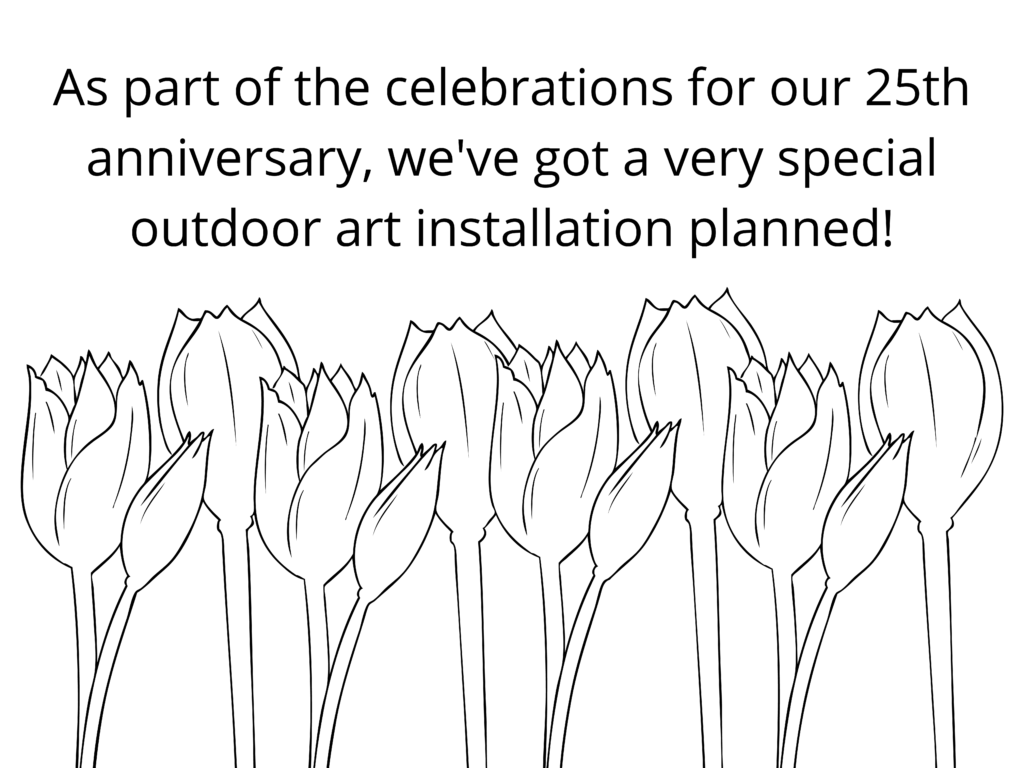 2021 POTTERY GARDEN PROJECT

To help celebrate 25 years of Paint Ontario, the Pottery Program of the Grand Bend Youth Art Centre is constructing a Pottery Garden. The colourful exhibition of hand painted tulips will be on display at the Lambton County Museum during Paint Ontario beginning September 3rd 2021.
Thank you to our local schools Huron Central PS, Stephen Central PS, Grand Bend PS, Kinwood PS, Bosanquet Central PS, North Lambton Secondary School, community members, adult day programs, LTC's and community groups for participating amidst these unprecedented ever changing times. A very special thank you to Mayor Bill and Ginger Weber for your time and support.
Volunteers: Carol Ann and Bruce Good, Judy Steeper, Joan Schiller, Kerrie Strand, Sandra Brown, Becky Cudmore, Jill St-Amour, Christina Van Bree, Lucas Dobson
Special thanks, Bill and Ginger Weber helping bisque fire our 1500 tulips.
Matt, Simpsons Fencing Ltd., London for donating our stems
Grand Bend Art Centre for supporting our initiative.
Machine shop class of North Lambton Secondary School
County Manor Estates
North Lambton Lodge
Marshall Gowland Manor
Albany Retirement Village
Kinwood Public School
Huron Centennial Public School
Grand Bend Public School
Bosanquet Public School
Stephen Central Public School
Seeds Rooted in Youth
Pathfinders
North Lambton Secondary School
members of our community along Lake Huron
Project leader and potter extraordinaire Judy Gerber orchestrated a way to proceed safely – with an instructional video and kits delivered to schools and other community members (pictured below is respite).
Students at North Lambton SS are very creative! We can't wait to see the finished tulips.
Here we have a wonderful update on our outdoor art installation from our fantastic Judy Gerber:
"Thank you everyone! It has been a very rewarding and fun project. An amazing group of volunteers have worked tirelessly along side me, in helping our community create 1500 flowers which will be part of an incredible display to celebrate the 25th Anniversary of Paint Ontario. Come check it out September 3-26 at the Lambton County Heritage Museum."
This is truly a community effort from schools, to adult day programs, to long term care homes, and many volunteers.
The Grand Bend Art Centre – Inspiring creativity in the community!