New for 2021
We have some exciting news here at Paint Ontario, where we're busy planning for our 25th anniversary year as Ontario's foremost show and sale for representational artists!
For the first time ever, we will be accepting sculpture into the competition!
This is a pilot project for 2021, and stands as a separate awards category in addition to those already established.
Submissions are sought in six sub categories: metal, wood, glass, clay, stone and mixed media.
The winning submission in each sub category will receive a $500 prize.
We will be jurying in a maximum of 10 sculptures for each sub category.
Sculptures can stand on the floor or be on plinths.
Submission is online through our website.
The work must be for sale and falls under regular commissions charged through Paint Ontario.
Sculptures will be priced between $200 and $7500.
Floor sculptures must be minimum 48″, maximum 84″ height; diameter maximum 32″.
Sculptures on plinths: maximum 48″ height; to stand on plinths 12″ x 12″ or 24″ x 24″.
As part of the Paint Ontario mandate, we will be keeping the theme to works reminiscent of life in Ontario. A representational show does not exclude contemporary sculptures; however, accepted works will evoke an experience, object, community or symbol of our province. What this means is no palm trees or non-indigenous animals. Any aspect of nature, music, animals, objects, built features or vessels may be included in your submission.
Before beginning your online entry: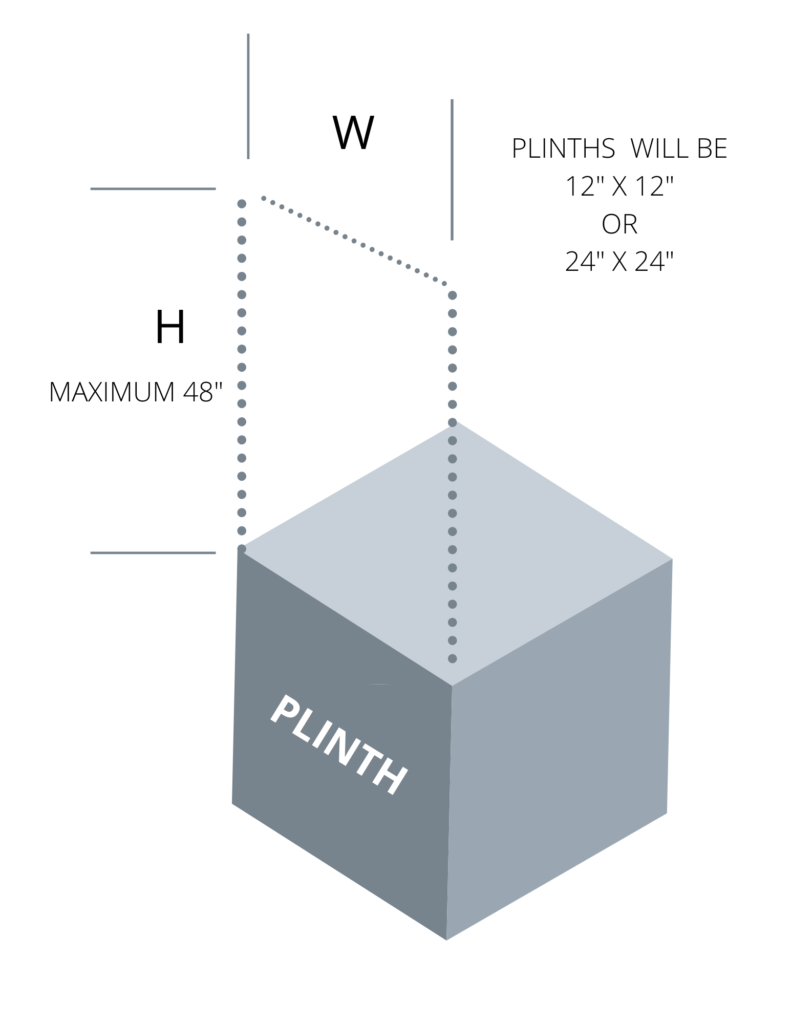 Measure your sculpture.
Sculptures under 48″ must sit on a plinth. Some plinths will be provided. The sculpture's base must be accommodated by either a 12″x12″ or 24″x24″ plinth. If a part of the sculpture will extend beyond the plinth (for example, a branch of a tree or an arm of a person) that is the measurement we need. Measure the width at the sculpture's widest point.
Sculptures over 48″ will sit on the floor. They may have a maximum height of 84″ and diameter (width) of 32″. The entry form only requires you to enter height and width.
Take a high resolution picture of your sculpture. Before uploading, rename your digital file using the artist's last name, first name, then the title of work, medium (metal, wood, glass, clay, or mixed media), dimensions and price.
You can only include one picture with each artwork entered online, but may be contacted at a later date and asked to provide more photos or video for jurying. If your sculpture is accepted but does not conform to specified dimensions or does not match the image it may be refused. This falls under #5 in our Terms and Conditions.
Sculpture is a pilot category for 2021. Due to current limitations with our online entry input forms, you will find references to 'Paintings' which cannot be changed. Be sure to check off 'yes' at the top of the form to indicate that you are entering the Sculpture category. This will open up further instructions to you and ensure that you enter the correct category. When entering your work's medium, be sure to specify whether it is metal, wood, glass, clay or mixed media. Remember that there is a prize awarded for each of these sub categories!
You should carefully read all Terms and Conditions along with instructions for online entry before proceeding.
If you still have questions regarding sculpture submission after reading all instructions, they should be directed through the contact form Be sure to check off 'Sculpture Entry – all questions' to direct your inquiry to the correct person.