Artistic Workshops  
All workshops are at the Grand Bend Art Centre 16 Municipal Drive, Grand Bend at the times below.  Sign up by sending an email 

register@gbartcentre.com
Colour Theory for the Figure Painter
with Brian Smith – 2 days
Opening weekend. Live model.
10:00am – 4:00pm each day
March 30th and 31st.
Cost: $250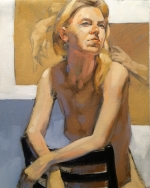 We have all had a class or two in colour theory, but how many actually understand how to put that knowledge into practice? This two day workshop will develop your understanding of the basics and the finer points of color theory and, more importantly, how to apply that knowledge to the painting of the figure. Work in acrylic or oils (traditional with odorless solvents please, or water soluble oils) on canvas or pages from a canvas pad.
Materials List:
Two stretched canvases approx. 12×16″ -OR- canvas pad (NOT canvas PAPER pad) 12×16″.
Acrylic or oil paints and accessories (brushes, palettes, etc.).
A board large enough to tape the canvas pad sheets if you decide to use them.
Interpreting the Landscape with Jamie Jardine – 2 days
10:00am – 4:00pm                                                                                                                                      April 13th and 14th                                                                                                                                  Cost: $200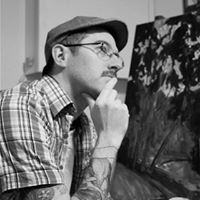 Jamie has been painting landscapes for 19 years. Join Jamie for a 2 day workshop on how he interprets a landscape and walks you, step by step, through your own landscape. He will lead by demonstration and explain his choice of palette, brushes and application of paint. He will break down each step of his painting from selecting a scene, blocking in shapes, choosing colour and refining each layer. Jamie will conduct several group critiques in order to help and encourage you along your way. The goal of the workshop is to boost your confidences so you can continue the process on your own. This workshop is open to any skill level.
We will be outdoors for a prolonged period of time so please dress according to the weather and have sufficient amount of drinking water and food if necessary.
Materials List
Jamie's palette (these are recommended but are not required)

Ivory Black
Titanium White
Cad Yellow
Transparent Red Oxide
Sap Green
Yellow Ochre
Pthalo Blue
Quinacridone Magenta

Brushes – 3-4 ranging in size from a 2" flat down to a small filbert
Palette
Thinner
Rag or cloth
Easel ( preferably a plein air style )
Life drawing with your peers  – 4 sessions
April 3rd, 6:30 to 8:30 pm
April 7th 2:00 to 4:00 pm
April 10th, 6:30 to 8:30 pm 
April 14th, 2:00 to 4:00 pm.

Cost: $20 per session  Bring your own materials.
Art Talks
All art talks are open to the public at the Lambton Heritage Museum in the media room commencing at 1:00pm. Cost: Museum admission
Marion Anderson is an award winning artist and experienced art instructor. Her versatility as an artist is due to her thirty plus years as a classroom teacher/ secondary school visual arts department head. Anderson works in series, completing a suite of artwork to explore a concept using the medium that best expresses her ideas. She is continuously experimenting, evolving and creating. Her subject matter depicts lived experience often portraying her rural roots.
Anderson makes her home and studio in New Dundee and Southampton, Ontario. Her work can be found in both private and corporate collections.
Donna Andreychuk's work can be found in private collections worldwide and in numerous corporate collections. Her main interest is in the Canadian landscape, with plein air painting, playing an integral part in her working process. Her works leans towards abstraction. Many of her works are ornamental and appear to blend impressionism with hints of Canadian and Scandinavian landscape styles. Donna's unique brushwork gives her paintings their brilliance and animates the surface, energizing the picture plane with colour and vibrancy.
We would like to acknowledge that Donna Andreychuk's art talk has been sponsored through the generous donation of Lynda Crossman.
Anna Koot is an encaustic artist residing in St. Marys, Ontario. The rural setting in which she lives continues to influence her art.  After many years of studying a variety of mediums, she has fallen in love with encaustic art.    The ancient art form of encaustic uses natural beeswax, mixed with resin and pure pigment.  The aroma of beeswax fills her studio, as tins of coloured wax are melted to begin another painting.  Heat is a very important element in her process.   The wax is melted, allowing it to be painted onto the surface with brushes, and then repeatedly reheated using her favourite tool, a propane torch.    "Every girl should own one."
We would like to acknowledge that Anna Koot's art talk has been sponsored through the generous donation of Jim and Marg Collez.
Demonstrations
All demonstrations take place at the Lambton Heritage Museum Main Gallery commencing at 1:00pm. Cost: Museum admission
April 6th (presented through the generous sponsorship of Bob Kennedy)  – Jeffery 'Red Dog' George