Artist demonstrations have always provided show attendees with the opportunity to witness the creative process at a safe social distance. We will be featuring a fantastic group of artists throughout our 2022 show. Many artists will be outside on the back grounds of the museum and, after viewing the Paint Ontario gallery, patrons will be free to wander outside and take in the demonstrations. Many people are not aware of the great collection of historical buildings which have been integrated into the museum grounds. They are fascinating and full of artifacts! You can also enjoy the forested trails and take a break at the covered picnic pavilion. Plan to spend some time outside and enjoy these attractions – all included in your entrance fee!
Saturday September 3 and Sunday September 4
Bayfield Centre for the Arts Mobile Art Truck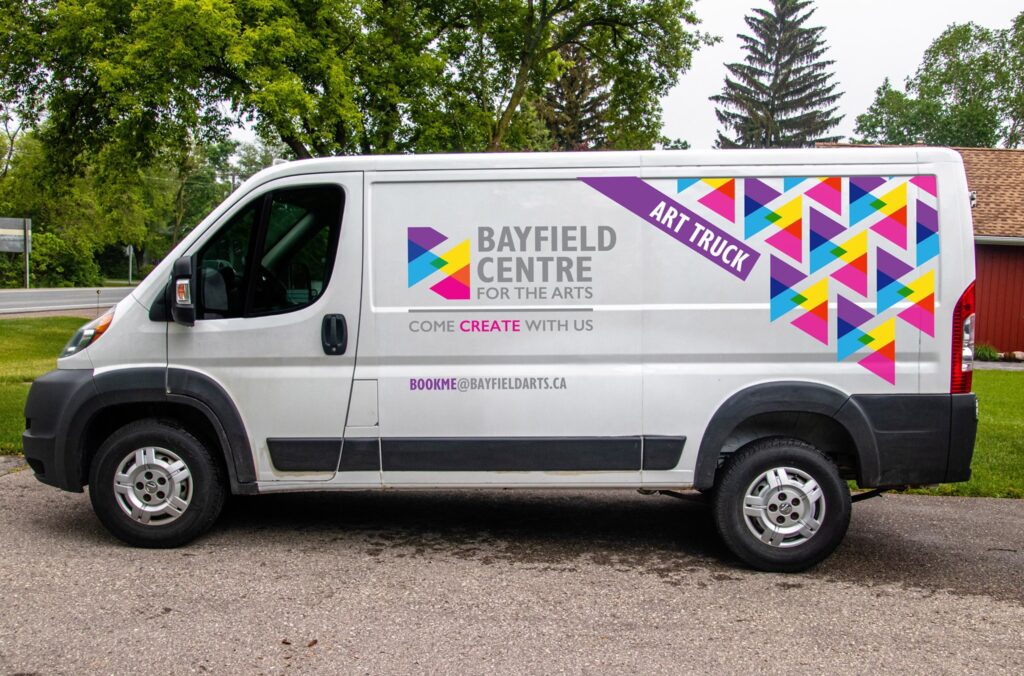 On our opening weekend we are thrilled to welcome a truck filled with art supplies ready to bring the experience of visual arts to kids – and kids at heart! Manned with Grand Bend Art Centre volunteers, the truck will be here both Saturday and Sunday. Bring the kids – there is no cost! Generously funded by Lambton County's Creative County Grant program.

Kristyn Watterworth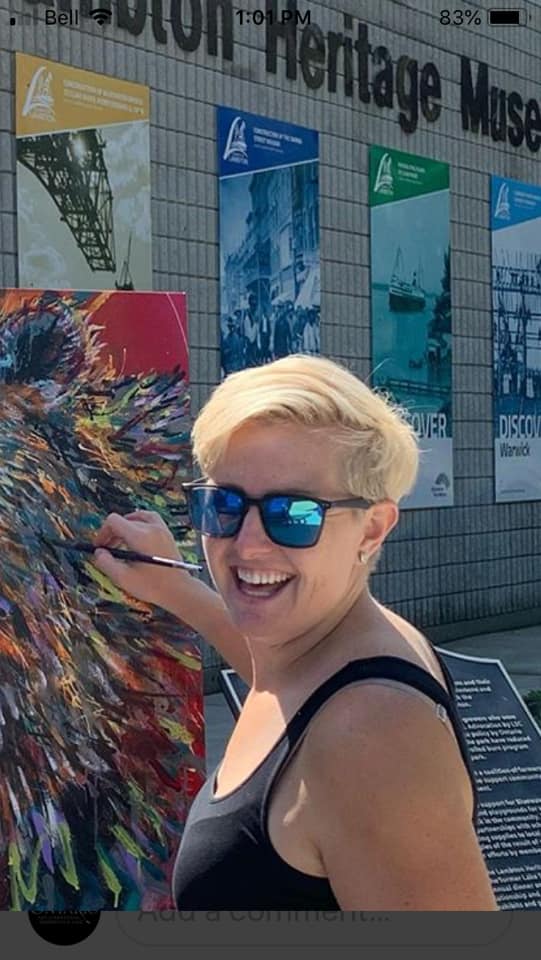 Also here Saturday and Sunday of our opening weekend courtesy of a Lambton County Creative County Grant, artist Kristyn Watterworth will be creating outdoor murals which will be installed at the Grand Bend Art Centre.
"I am a painter who works to bring a little more brightness into each passing day. I've been painting diligently from the age of 12 and obtained my BFA from York University. I love traveling as it allows me to gather inspiration for my paintings. I have taught hundreds of students in my former studio in Bayfield which gave me thousands of ideas about how to do things differently. With all of the different challenges students brought to paint, there was constant new learning and discoveries that were made. That is why I love mixing up styles, genres and subject matter. There are so many ways to make things come alive and i love to explore so many of them. Currently I am trying to focus on my animals, abstract series, and a bit of Virtual Reality thrown in.
See my newest works and see what I'm up to on my Instagram "

Sunday September 4 Demonstrating 1-4pm
Jeff Vola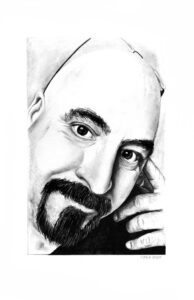 "My mother once said to me….."If a talent is not shared ….then one deprives others of something God given….."
On April 1, 2020….I was laid off due to a COVID-19 government ordered pandemic shut down. Like most….I was forced into self isolation for protection.
With that in mind, I rushed to the art store to purchase some supplies to keep busy with my down time.
Little did I know…..that I was about to embark on a creative expression…..the likes of which I'd never known."
All of Jeff's original drawings are made with 3 different types of graphite pencil including 2H, HB, and 2B. Prints are made on 11″ x 14″ recycled acid free 96 lb. XL Bristol paper.
Please visit jeffvola.com to see his work!
Jen Noakes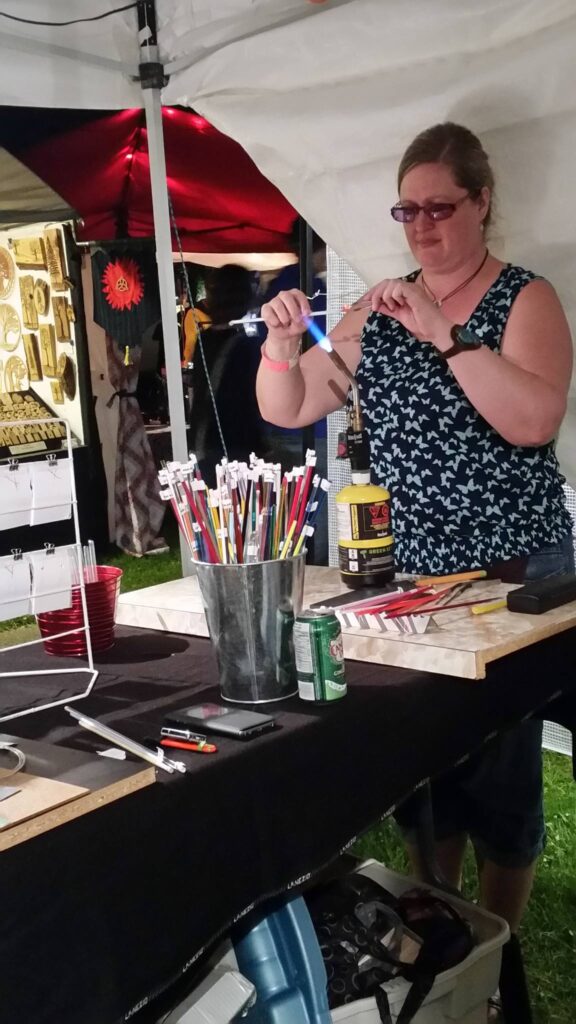 Jen has spent her life exploring various facets of the arts and embraces them as part of who she is. As a youth she spent much of her time playing musical instruments and learning traditional crafts from her grandparents (and anyone else who would teach her). From the time she was a young adult she has travelled to dance throughout the United States and Canada with Forest City Morris and Sword, and also sings in the Wassail! choir, focusing on traditional Christmas songs from over a century ago. She dabbled in photography before learning how to make stained glass, which led her to attend Sheridan College for their Craft and Design program. There, she fell in love with glass and ceramics, in their many forms, and specialized her studies in flameworked and kiln cast glass.
She has since worked with and learned from various glass and ceramic artists, suppliers and teachers. Her own studio was recently established at her home, where she can often be found for long hours at a time.
Jen is passionate and enthusiastic about spreading the joy of the arts, and as such she is a past volunteer for Glass Art Association of Canada, past representative of Fusion: the Ontario Clay and Glass association, as well as the London Stained Glass Guild. After Jen moved to the South Huron region, she was invited to be a part of Art aRound Town, of which she is a current member.
She is excited to be a part of the South Huron Arts Centre as she truly believes in bringing community together through the arts.
Thursday September 8 Demonstrating 2-5pm
Layne van Loo and Elaine Guitar-van Loo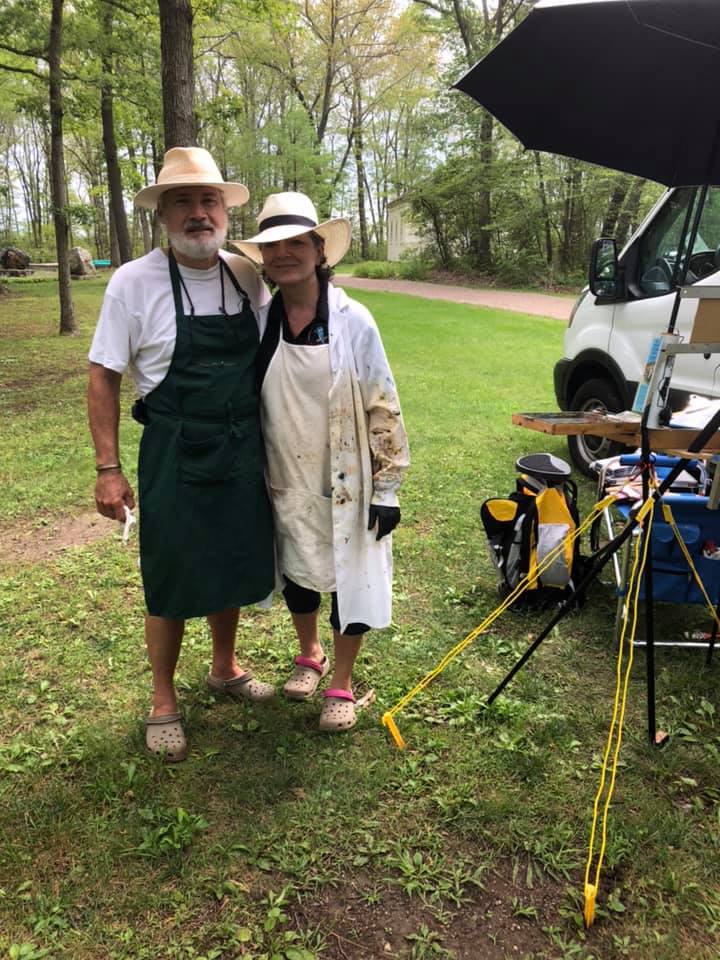 Elaine and Layne discovered Paint Ontario in 2018 as exhibitors and were so impressed with the entire experience that they have returned every year since as both exhibitors and demonstrators. Among other accolades won at Paint Ontario, Layne's acrylic won 2019's Wildlife Choice Award and last year Elaine won First Place in our portrait category. We are so honoured to have these two artists as an integral part of our show year after year. Not only have they both impressed gallery audiences with their demonstrations, Elaine has donated her finished paintings to be raffled off (raffle tickets were free with every gallery admittance). Thank-you Elaine! To learn more about the work of these two talented artists:
Be sure to visit the link at the bottom of this page to see the online demonstrations these two wonderful artists created.
---
Astra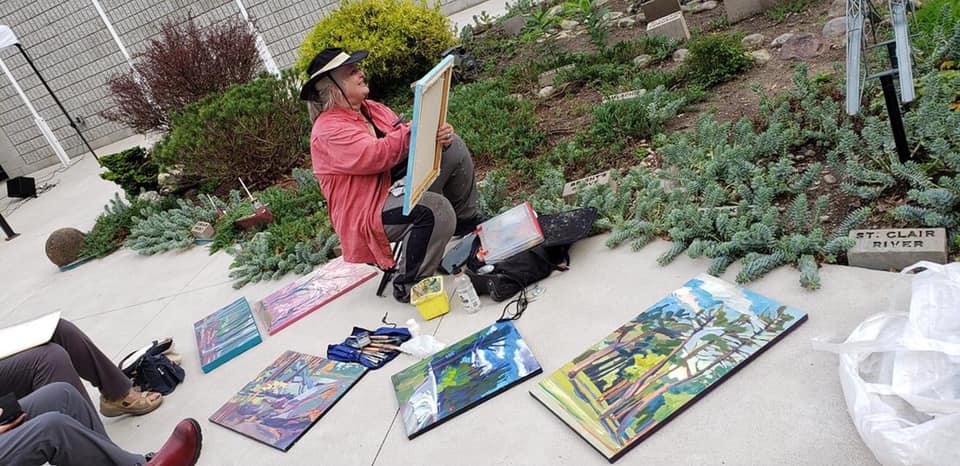 Astra has participated in solo and group shows as well as plein air events – winning multiple awards along the way. Her medium is acrylic on canvas and her signature work uses bright, bold colours translating the landscape into shapes.
Winner of Paint Ontario awards in 2018, 2019 2020 and 2021.
Astra is another of our pioneering artists who took on the challenge of creating an online demonstration for Paint Ontario, be sure to view her video by visiting the link at the bottom of this page.
Saturday and Sunday September 10 & 11
Wayne Simpson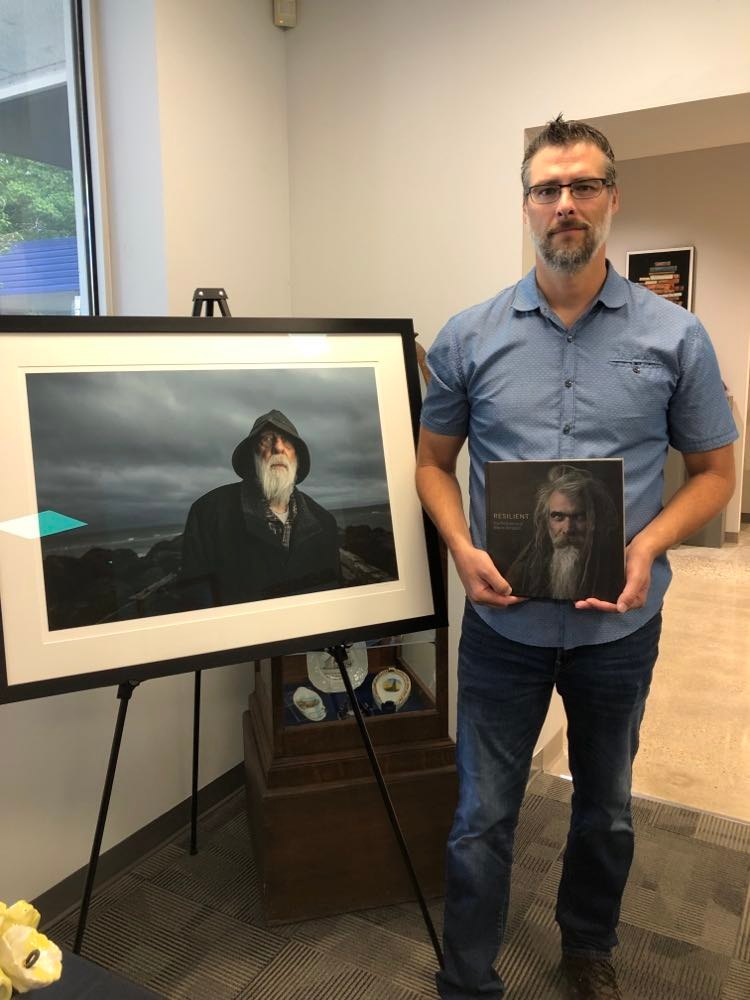 Wayne Simpson is a photographer who will be at the gallery all weekend with his new book to meet, greet and sign.
Many people wear a lifetime of experiences on their face, yet who that person is and what they have experienced often remains a mystery. In Resilient, Wayne Simpson's first book of photography, readers will encounter a collection of portraits accompanied by individual stories of inspiration, tragedy, and humanitarianism. The book's overall narrative is an emotional journey in which readers will inevitably see aspects of themselves in the stories of some truly remarkable individuals.
With compassion and respect, Wayne Simpson has befriended individuals and discovered personal stories such as an 89-year-old homeless man's struggle to survive, an 18-year search for a lost brother, a man's 40-year devotion to building a ten thousand square foot nuclear fallout shelter, and many more. Intertwined with each story is the subnarrative of the photographer learning who he is as each connection is forged.
Always compelling and at times haunting, Simpson's portraits keep storytelling at the forefront. The atmosphere and mood are often crafted with multiple studio lights on location. Many of Simpson's portraits are graced with intricate details, each adding additional layers of complexity to the portrait and in turn making each portrait a visual story on its own.
---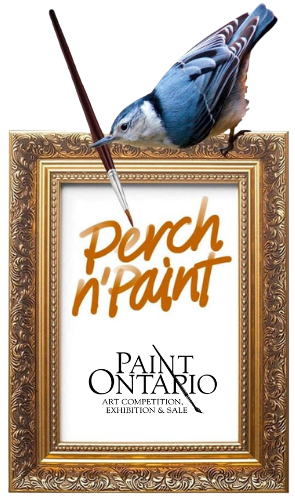 Our second annual plein aire event is happening this weekend. Plein air means that the artists are painting outdoors. They must register and have their canvasses checked to make sure that they are blank, and then go out and about to find inspiration and create a piece from something they see outside – no photos for reference or working in a studio.
Artists will be bringing their finished work to the museum Sunday afternoon for judging and the awards presentation. All of the work will be for sale and will become part of the Paint Ontario show for the duration of our run.
Thursday September 15 Demonstrating 4-7pm
Chris Cape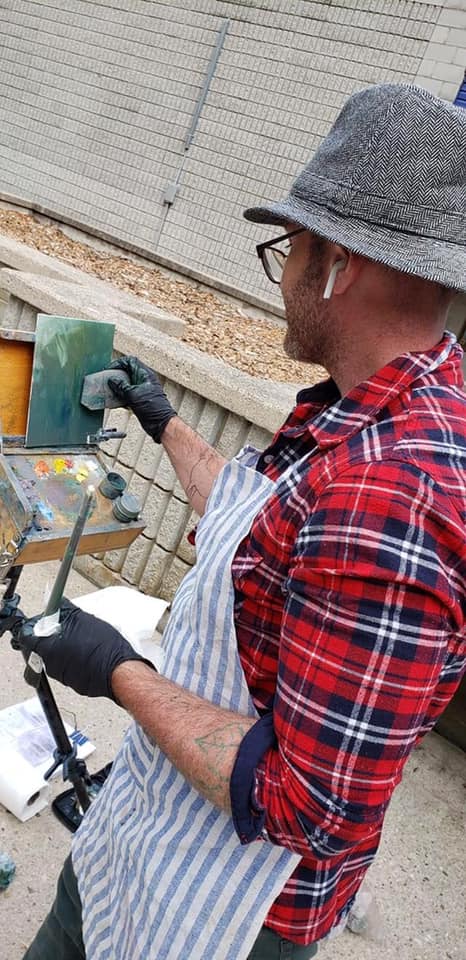 Painting and instructing out of Guelph, Ontario, Christopher Cape's work rests upon the longstanding foundation of Canadian landscape painting. Venturing out into the field to collect data, En Plein Air, his interest lies in dissolving the boundaries between our environment and us. Visually exploring the world of subjects and objects, primarily in oil, he works with bold brush strokes extrapolating the key elements of a constantly changing world.
Chris is a past award winner at Paint Ontario.
Visit his website for a wealth of information: christophercape.com
Chris Cape is an inspiring artist who accepted the challenge of producing an online demonstration which is so interesting to watch, be sure to view it by visiting the link provided at the bottom of this page!
Barbara McLeod
Barbara McLeod is a representational artist who currently resides in New Hamburg, a rural/urban settlement within Wilmot Township that is rich in local heritage landscapes. After a successful career in municipal government, with several years as the Clerk of the Township, she is now retired and free to dedicate time to her lifelong passion with painting. Barbara is adept working in the media of traditional oils or watercolour, painting plein air and in her studio. Her subject matter primarily lies in interpreting landscapes – whether they are found in nature or rural/urban scenes.
As a member of Central Ontario Art Association, Art$Pay, Homer Watson House and KWSA, Barbara has enjoyed gaining knowledge from numerous professional artists and colleagues over the years and feels that these artists have been instrumental in her development as an artist. Among her mentors are John Stuart Pryce, Devona Paquette, Sheila Davis, Bert Williams, Liz Lesperance, Jake Mohl, Art Cunanan – to name a few.
Much time is spent in the great outdoors painting from life. She is passionate about capturing the beauty of nature and the mood and emotion of the subject matter on canvas. She has participated in numerous plein air events and recently was awarded with the Best Urban Scene at the Perch n' Paint Event in Grand Bend.
There is always a painting on her easel and a brush in hand. Recently, her painting 'Corner of Peel and Church' was accepted into the Federation of Canadian Artists' International Exhibition in Granville Island, Vancouver. Her painting 'Pillars of Christner Road' has been featured in Arabella magazine and artwork has been displayed and sold internationally. Barbara's work has been exhibited and sold at Paint Ontario (Lambton Shores), Paula White Diamond Gallery (Waterloo), various juried exhibitions – including the Art Gallery of Hamilton, Etobicoke Gallery, Homer Watson Gallery, Dundas Museum and CIGI Doors Open. She has been a participating member of Rural Routes Studio Tour, The New Hamburg Art Tour, New Hamburg Live and Wellesley Art Round the Pond cultural events. Barbara has taught watercolour at the Southampton School of Art School, Ontario and instructed at the Lambton Heritage Museum.
She hopes the viewer enjoys her work as much as she does creating it!
https://barbaramcleodart.wixsite.com/mysite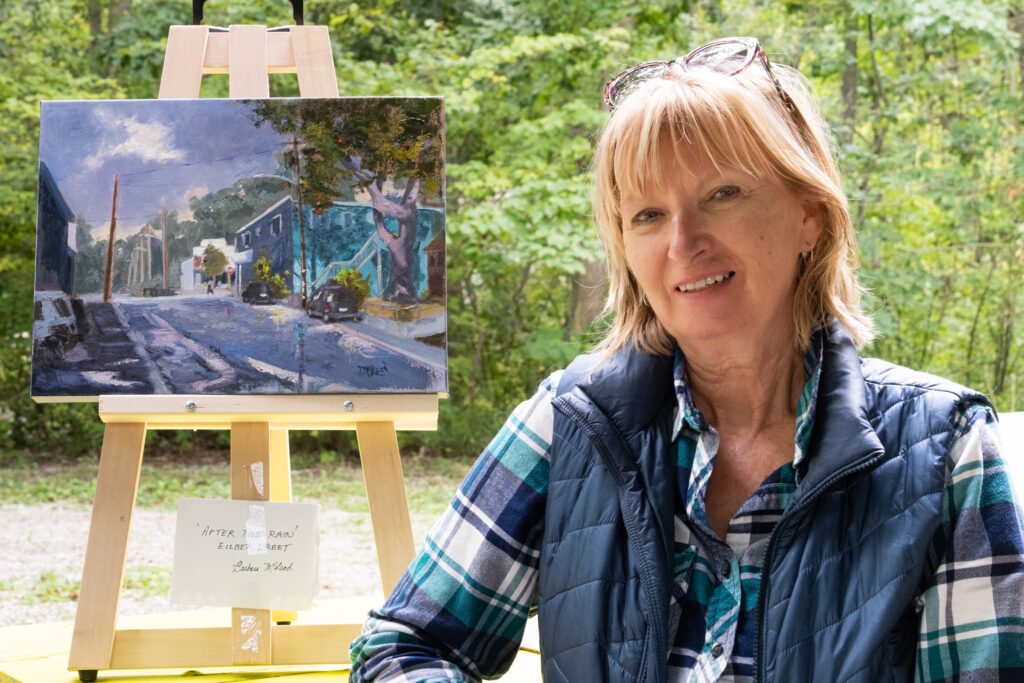 Saturday September 17 Demonstrating 1-4pm
Wood On The Walls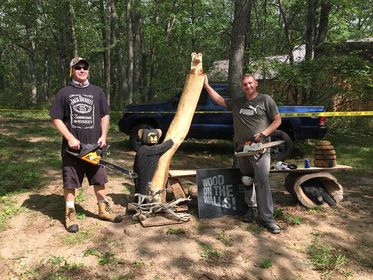 Local artists who create beautiful pieces from wood, the Newton brothers provide a variety of services to anyone looking for some custom wood interior or exterior one of a kind work. The brothers, who live in Port Franks, will wield their chainsaws outdoors at the museum and it promises to be a really exciting demonstration!
Beth Turnbull Morrish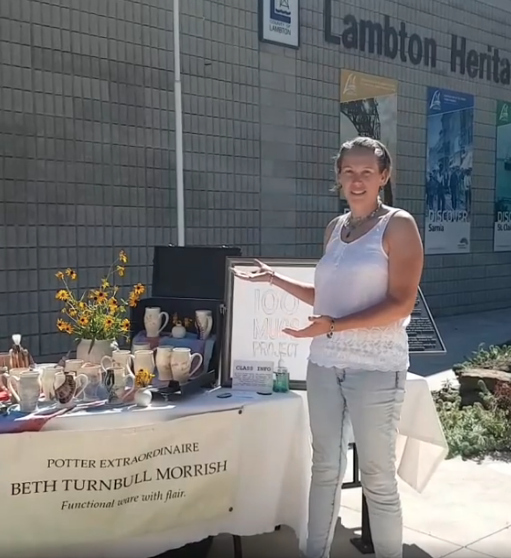 I have been an artist from the time of childhood. An interest in colour and materials made stationary supplies my plaything of choice from the beginning. Elementary and high school education before the time of cutbacks allowed exploration into many media, such as photography, fashion design, ceramics, printmaking and traditional painting and drawing techniques as well as a good background in Art History.
At the age of eighteen I took a year away from school and spent time travelling in Europe visiting the masterpieces of Western art and architecture. Upon return, I attended BealArt as an interdisciplinary student and earned a Technological Studies Certificate in Vocational Art. I also realized a stronger desire to work with my hands and the confidence to pursue my career in art.
The Nova Scotia College of Art and Design was an excellent choice for my interest in craft within a fine art environment, and resulted in a Bachelor of Fine Arts, Major in Ceramics. While in Halifax, I worked as a potter's assistant for two different potters and gained invaluable experience that complemented the knowledge learned in school.
After graduation I joined the London Potters Guild as a studio member. I was soon offered the position of Artist In Residence and later Studio Technician as well as beginning a teaching career with adults and kids courses.
In 2004 came the purchase of a house with a studio space. The separate studio building is where all of my work is now created and is the home of Turning Bull Pottery. The studio can be visited by appointment, as a part of the London Artists Studio Tour and two weeks before Christmas each year I hold a Studio Open House and Seconds Sale. I also participate in several shows and sales each year, as well as exhibiting work in local shops and galleries.
I teach ceramics too, private lessons in my own studio, at the London Potters Guild, and at Lambton College. Teaching Ceramics and Art History has a significant influence on my work and forces me to constantly learn new ideas and techniques.
Sunday September 18 Demonstrating 1-4pm
Moumita Roychowdhury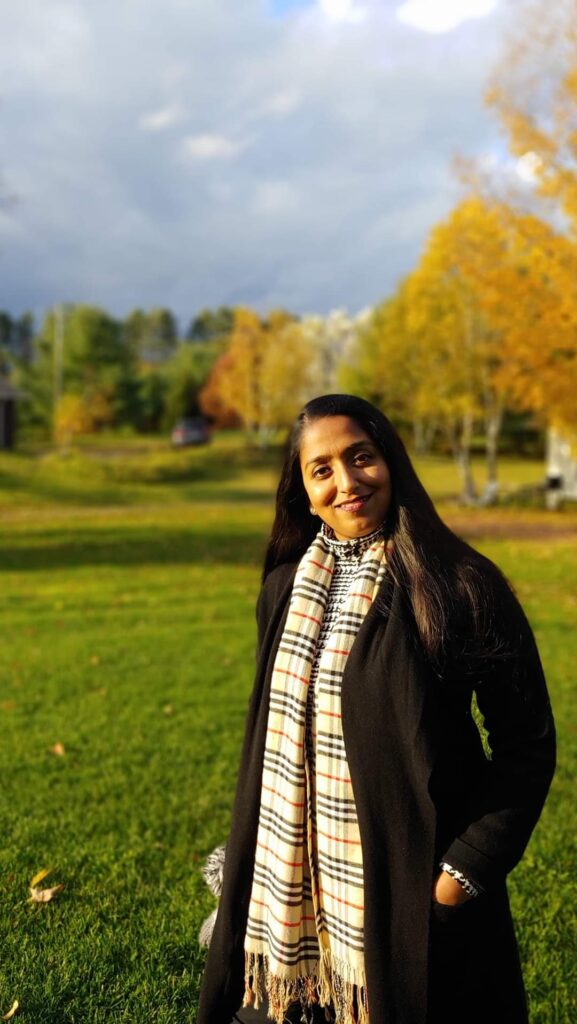 I am an artist born in India, now based in Waterloo, Ontario. I have always been drawn to art from a very young age but have discovered my passion for painting professionally in the last few years. Currently I am actively pursuing my artistic endeavours in the Kitchener Waterloo region and beyond through various exhibitions, events, public art installations and teaching. Nature plays the lead role in my work – captured through the sublime transparency of watercolours or the vibrant boldness of acrylics or the soft subtleness of pastels. I like to take inspiration from the colours and moods of nature which changes like the myriad shades of human emotions. I endeavor to capture the beauty and simplicity of nature, moments and emotions in bold rich colours and transform them into something evocative, atmospheric and moody through my intuitive mark making. At the Paint Ontario Art Competition, Exhibition & Sale, I will be doing a demonstration of my pen and watercolour drawings by capturing various subjects and making them uniquely fun & colourful.
Website: https://moumitaroychowdhury.weebly.com/
Instagram @ moumita.dg
Thursday September 22 Demonstrating 4-7pm
Jamie Jardine
Due to unforeseen circumstances this demonstration is cancelled.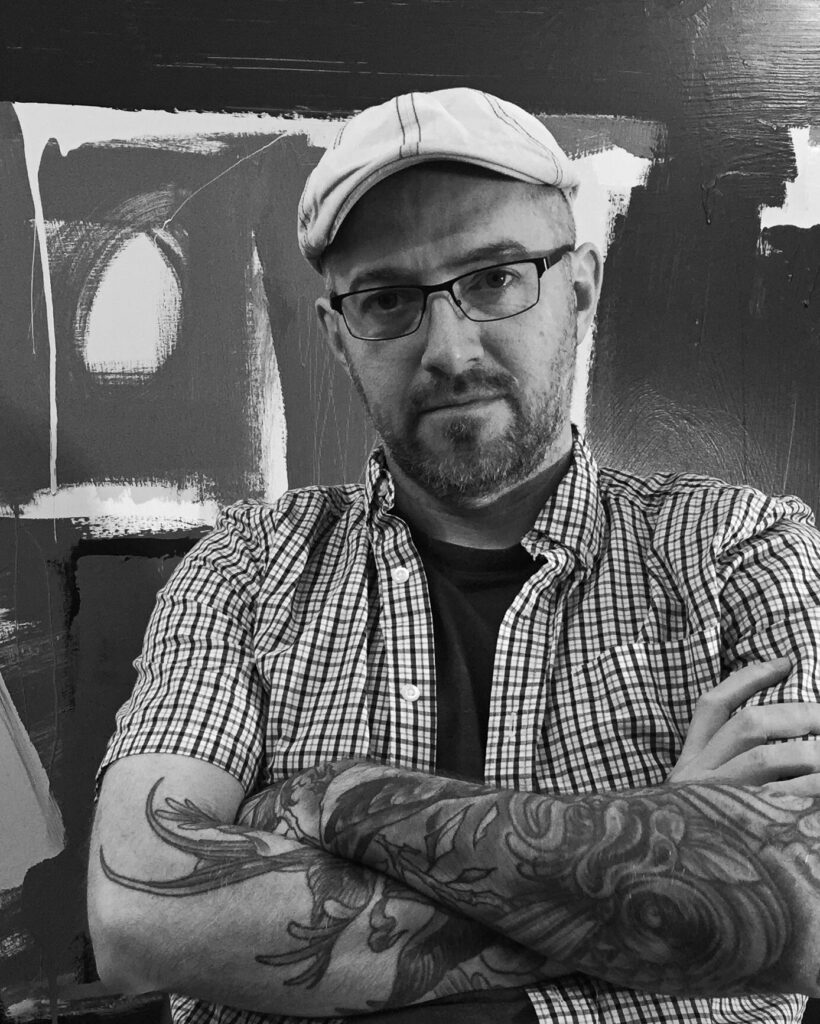 A renowned landscape painter, Jamie has been painting and exhibiting his work in London and surrounding areas for 20 years. He has worked mainly on landscapes but more recently has made a shift to abstraction and minimalism. Jamie studied Fine Art at Fanshawe College from 1996-2000 and is currently a private visual arts teacher as well as a working artist. Throughout his career, Jardine has exhibited works at galleries in Toronto and London, as well as Westland Gallery. He is a Second Place winner at Paint Ontario.
Lately, Jamie has been concentrating on process and materials rather than traditional methods. His new work is quite removed from his previous and expresses a range of emotions, from joy and calmness to anger and frustration.
We are so pleased to have him as a member of Paint Ontario's production team!
Paul Abeleira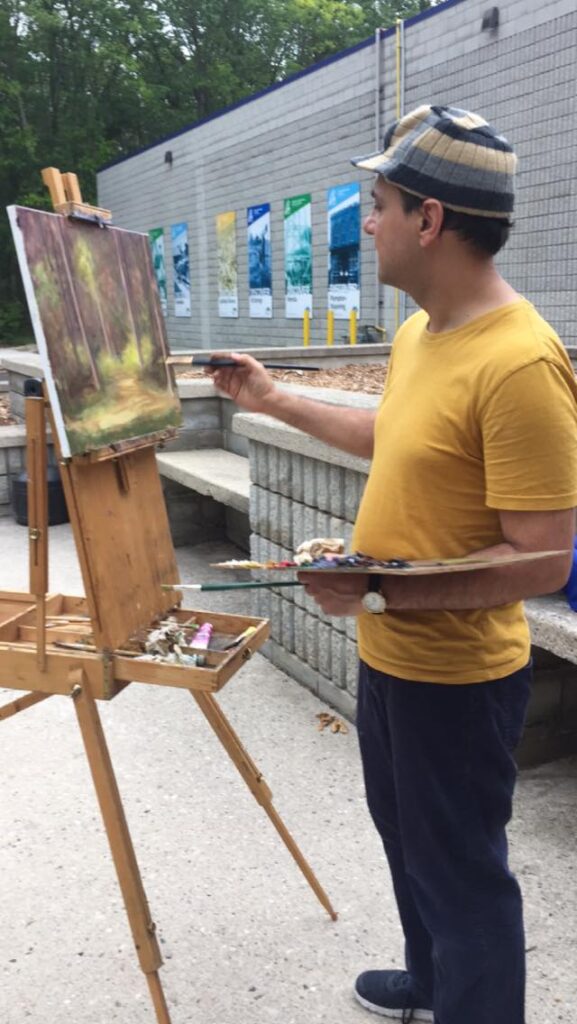 Paul does paint from 'life' and uses oil paint almost exclusively, as a lasting and flexible medium. His paintings are poignant and beautiful – whether it is a female portrait study, a bowl of glistening fruit, or a shiny, familiar can of Coke, all are executed with care and skill. "I am a sucker for anything with shine – metal, glass, water. It's difficult to make something shiny come to life, and I love that challenge." He now teaches other painters, and follows the same passion. "It's rewarding," says Paul, "to help people over their struggle to get a certain effect, like a reflection on water, so that it will really glisten." Paul has worked hard for years to master techniques and is happy to share his secrets with his students so that they can find success too. There is nothing average about Paul Abeleira – anyone who can marry cooking and painting together so seamlessly, and with such fun and passion, deserves a second glance. The name of his website says it all – 'icookandpaint.com'.
Saturday Sept. 24 Demonstrating 1-4pm
Marion Anderson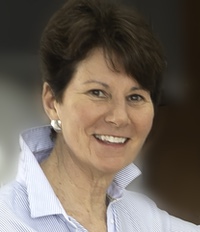 Originally from Kent County, Marion Anderson now makes her home and studio in New Dundee. She studied Visual Arts at Windsor University later completing a Masters of Education at University Western Ontario, London.
Her diverse portfolio shows expertise in a wide range of mediums including clay sculpture, watercolour, acrylic and oil painting as well as the ease with which she moves from florals to landscapes in subject matter. This fluidity is due to the artist's thirty plus years as a Visual Arts teacher/department head.
Anderson's unique mixed media technique is constantly evolving over time. She works in series, completing a suite of paintings to express a concept or idea. Heavily textured, each piece is rendered in a limited palette, suggesting a unique visual experience for the viewer's interpretation. One exploration simply leads to another!
Sunday September 25 Demonstrating 1-4pm
Denise Antaya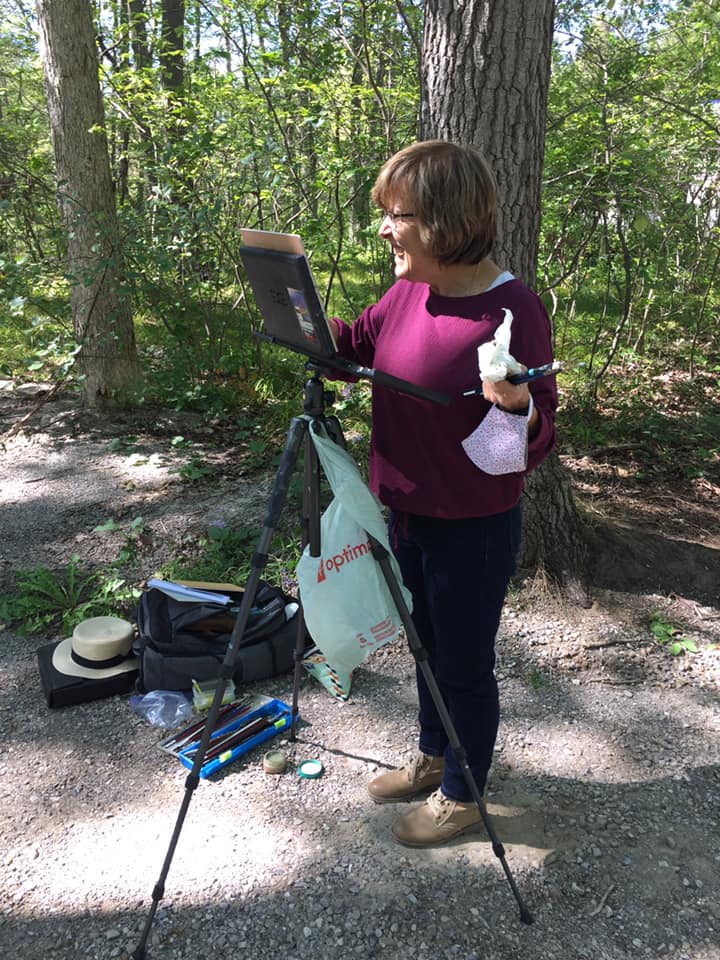 Denise is an award-winning plein air landscape painter and recently a finalist in Makeful TV's "Landscape Artist of the Year Canada" television series. She is a previous award winner at Paint Ontario.
Denise Antaya was born in Windsor, Ontario in 1959. She has been an artist for as long as she can remember. She had her first serious art show when she was 14 and hasn't stopped painting since. After a 31 year career in Advertising Denise decided it was time to focus on painting landscapes full time. She attended the Academy of Realist Art in Toronto for 3 years and attended various Plein Air workshops.
The everyday themes in Denise Antaya's oil paintings combine her love of nature and her fascination with light and how it transforms an often overlooked scene. With her fearless approach to composition, Denise pushes Realism to just the right balance of detail and poetry. Her subjects range from season to season but almost always represent the natural environment untouched by man. She has the ability to capture a moment, and even transport one back to a quieter, simpler time.
She has many influences, from the Hudson River School Painters to modern day masters such as Marc Hanson, Joseph McGurl and Donald Jurney. Rural scenes, that are wild, overgrown and serene are her subjects.
ArtMuse judge Colin Page's comment on "The Hideaway": "Landscapes are challenging to paint, and even more difficult when this level of detail is involved. The artist does a great job of using a warm palette to unify a complicated and busy scene. These warm colours give the image a glowing effect. I'm also enjoying the variety of edges and looseness of touch, even at this level of rendering the brush seems to play on the canvas."
With over 40 exhibitions across Canada and the United States, her paintings have earned 10 awards, and for the second year in a row two of Denise's paintings were finalists in the ARC (Art Renewal Centre) Salon Competition. She was awarded best landscape in the 12th Annual IGOR Competition (International Guild of Realism). In 2017 she earned an ARC Associate Living Master designation and is working towards her Living Master designation.