Back again for 2020, artist demonstrations are expanded to include more sessions and different mediums. Show attendees are always thrilled to witness the creative process!
Demonstrations take place in the afternoon 1-4 at the museum except for those which are a part of our Pints & Palettes event.
*NOTIFICATION* Due to the Covid-19 pandemic and following the guidance of Lambton Public Health, all demonstrations will be postponed. We plan to reschedule at a future date. Please check back as information will be updated. Thank you for your understanding.

Saturday March 28th POSTPONED
Elaine and Layne discovered Paint Ontario in 2018 as exhibitors and were so impressed with the entire experience that they returned last year as both exhibitors and demonstrators. Layne's acrylic won last year's Wildlife Choice Award. Not only did they both wow gallery audiences with their demonstrations, Elaine donated her finished painting and it was raffled off (raffle tickets were free with every gallery admittance). Thank-you Elaine! We know our patrons are looking forward to seeing this wonderful pair of artists again this year. Be sure to visit their website to learn more about the work of these two talented artists.
---
2019 Wildlife Choice Award "AM At the Cattail Cafe" by Layne van Loo

"Sixteen" Acrylic by Elaine Guitar VanLoo

Elaine creating before our eyes.

Layne working his magic

Elaine's finished painting – a lucky show patron got to take it home.
---
Saturday April 4th POSTPONED
Astra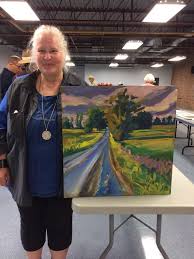 Art created by the need to explore landscapes
---
Simple and direct series exploring large scale abstraction plein air
---
Exploring terrain and painting from canoe, sailboat and ground – large scale (up to 60 ") plein air year round.
Astra has participated in solo and group shows as well as plein air events – winning multiple awards along the way. Her medium is acrylic on canvas and her signature work uses bright, bold colours translating the landscape into shapes.
Winner of Paint Ontario awards in 2019 and 2018, Astra will be outside on the grounds of the museum from 1-4 p.m. demonstrating her expertise.
Painting and instructing out of Guelph, Ontario, Christopher Cape's work rests upon the longstanding foundation of Canadian landscape painting. Venturing out into the field to collect data, En Plein Air, his interest lies in dissolving the boundaries between our environment and us. Visually exploring the world of subjects and objects, primarily in oil, he works with bold brush strokes extrapolating the key elements of a constantly changing world.
Be sure to visit his website which provides a wealth of information for any artist.
Chris will be outside at the museum from 1 – 4 p.m.
Sunday April 5th POSTPONED
My work reflects my culture and its blessings, along with its inner pains and suffering. My journey through life has led me to my native culture and traditions and the place where I am honoured to share my heart and soul through my artistic gifts of painting and my music with the Native Flute.

Red George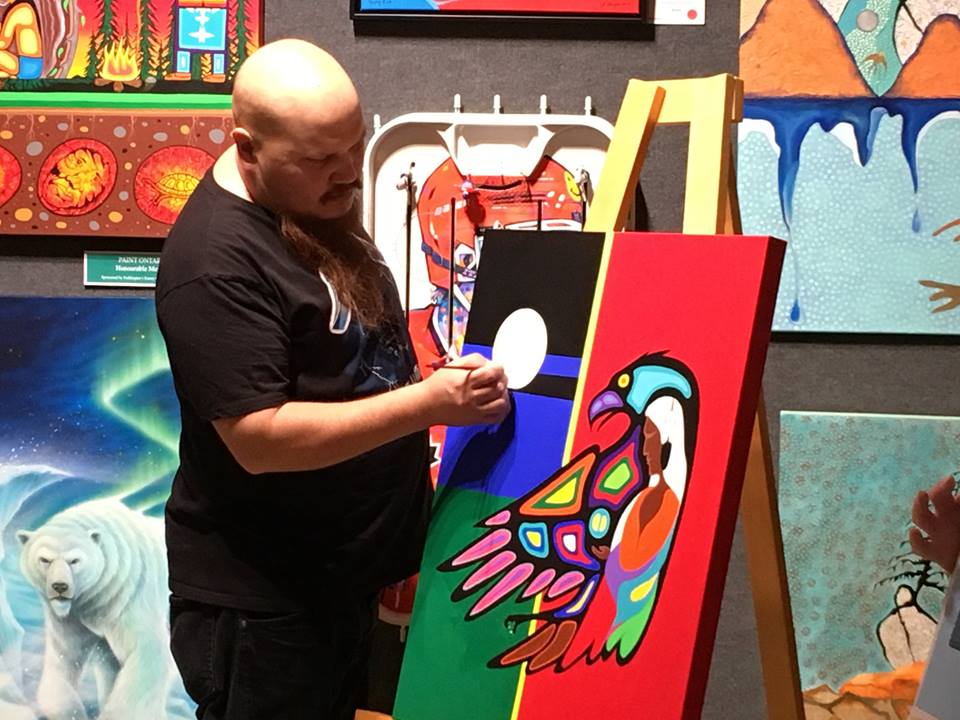 Jeffrey (Red) George (Ma-Mi-No-ga-boo) is a well known local Ojibway artist whose work is internationally renowned. His art hangs in many private homes and public galleries throughout North America and the world. He was awarded an honourable mention in last year's Paint Ontario show for "Sweat Lodge" (pictured below).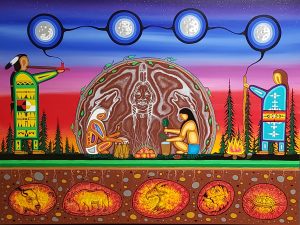 Friday April 10th POSTPONED
Teresa Marie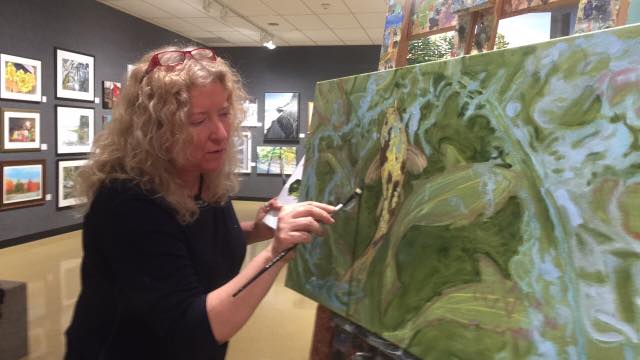 Artist Teresa Marie founded the Grand Bend Art Centre in 2008 and, with the addition of a Board of Directors, incorporation, and charitable tax status, became its Executive Director. She is an original member of the River Road Gallery which was founded in 1996 as an artists' co-op and continued until 2011, when Teresa took over the gallery as sole proprietor and curator. In 2015 she ended her role as gallery owner. Through the GBAC, Teresa devotes time and enthusiasm to bringing a variety of accessible arts to the Greater Grand Bend community. She is the dynamic curator and driving force behind the Paint Ontario show. Come out and see her demonstrate her expertise in acrylics.
Saturday April 11th POSTPONED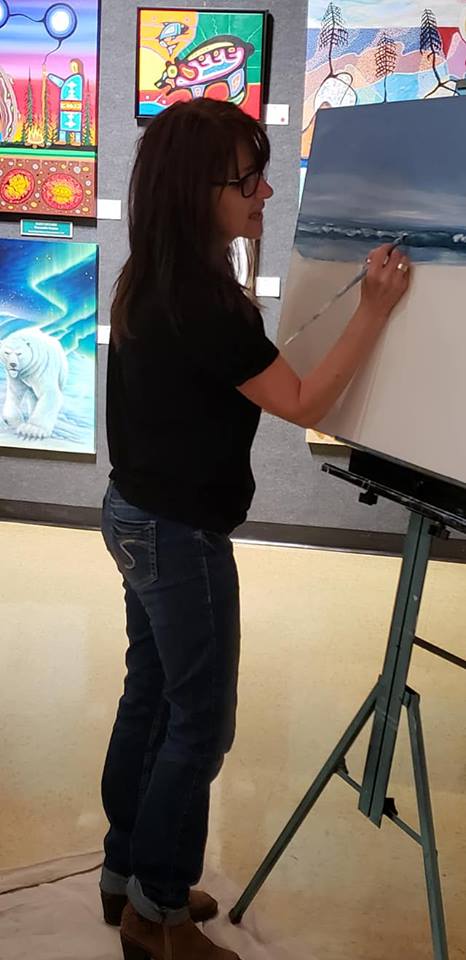 Martina is an artist creating contemporary images in acrylic on large format gallery wrapped canvas. Her focus is for the viewer to experience a balance of energy and tranquility.Martina was born and raised in South-Western Ontario. She is located in Grand Bend where she works full time as a studio painter. Martina decided in 2007 that becoming a painter was a passion she could no longer ignore. She taught herself to paint through dedicated practice. In the beginning she worked from photographs, but has now moved towards working intuitively and from memory which allows her to focus on creating an image that will convey her love of simplicity and evoke a sense of calm to the viewer. Her subject matter is predominately the Great Lakes. Inspired by the never-ending motion of blues, greens and greys, these elements along with nostalgia give her what she needs to translate her intention. You simply must come out and watch her create!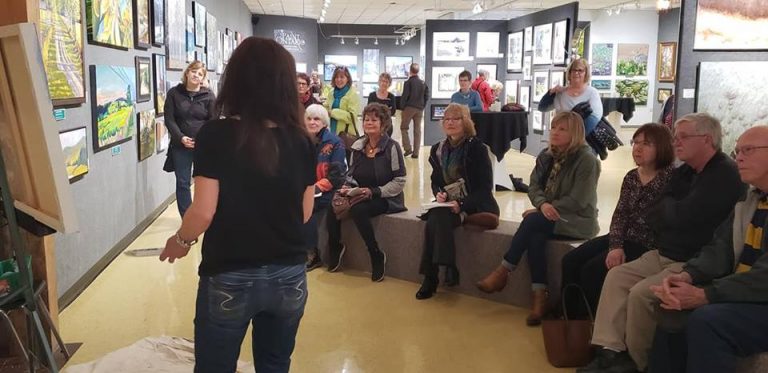 Friday April 17th POSTPONED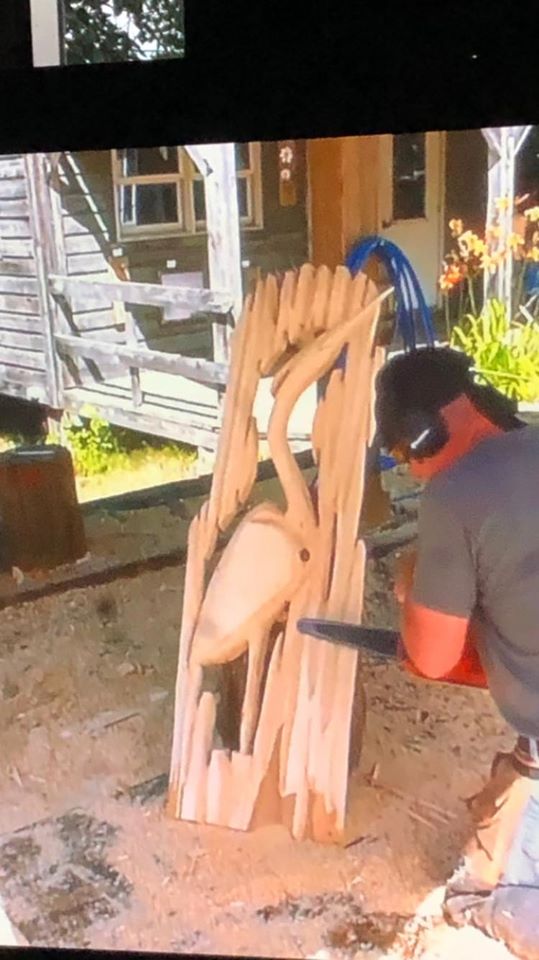 Brothers Mike and Rick Newton create magical works using chainsaws and you can watch it happen outside on the museum grounds in the afternoon from 1-4 p.m.
A great line up of artists will be demonstrating their talents as part of our Pints & Palettes event the evening of April 17th.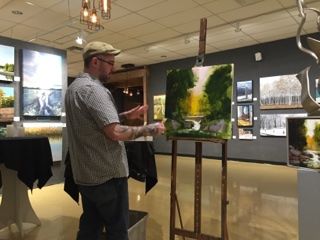 Jamie has been painting landscapes for 19 years. His demonstration will explain his choice of palette, brushes and application of paint. He will illustrate each step of his painting from selecting a scene, blocking in shapes, choosing colour and refining each layer. Jamie was awarded Second Prize at last year's show. Jamie will also be conducting a workshop at the Grand Bend Art Centre and you can find out about that by visiting our Artists' Workshops page.
---
Second Prize 2019 "A Break in the River" Acrylic by Jamie Jardine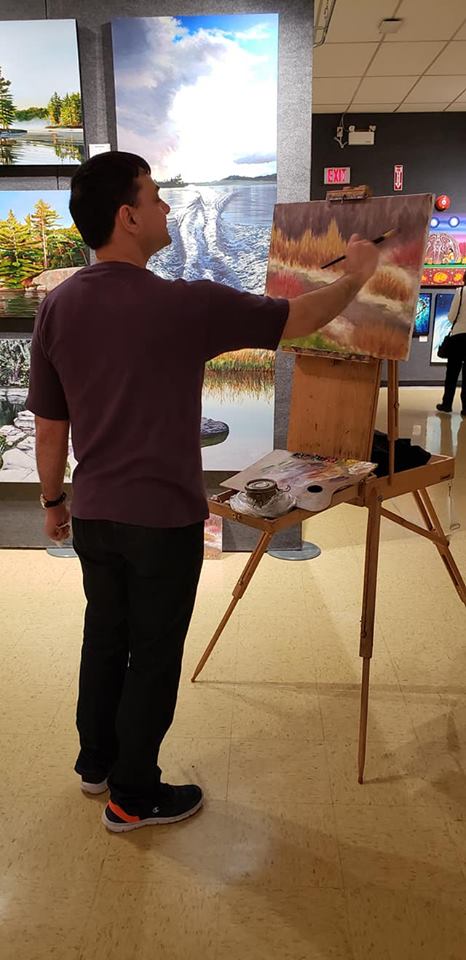 Paul does paint from 'life' and uses oil paint almost exclusively, as a lasting and flexible medium. His paintings are poignant and beautiful – whether it is a female portrait study, a bowl of glistening fruit, or a shiny, familiar can of Coke, all are executed with care and skill. "I am a sucker for anything with shine – metal, glass, water. It's difficult to make something shiny come to life, and I love that challenge." He now teaches other painters, and follows the same passion. "It's rewarding," says Paul, "to help people over their struggle to get a certain effect, like a reflection on water, so that it will really glisten." Paul has worked hard for years to master techniques and is happy to share his secrets with his students so that they can find success too.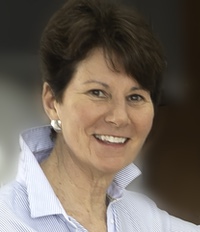 Originally from Kent County, Marion Anderson now makes her home and studio in New Dundee. She studied Visual Arts at Windsor University later completing a Masters of Education at University Western Ontario, London. Her diverse portfolio shows expertise in a wide range of mediums including clay sculpture, watercolour, acrylic and oil painting as well as the ease with which she moves from florals to landscapes in subject matter. This fluidity is due to the artist's thirty plus years as a Visual Arts teacher/department head. Anderson's unique mixed media technique is constantly evolving over time. She works in series, completing a suite of paintings to express a concept or idea. Heavily textured, each piece is rendered in a limited palette, suggesting a unique visual experience for the viewer's interpretation. One exploration simply leads to another! Marion is a past winner of several awards at Paint Ontario.
Bijan's Art Studio was established in June 1995 as a painting studio. Based on the needs of the community and the many requests by professional artists, the studio was expanded to an art supplies store. Bijan himself is a prolific artist and past exhibitor at Paint Ontario. He will not only be demonstrating his skills this evening at our Pints & Palettes event, but will also have art supplies available for purchase.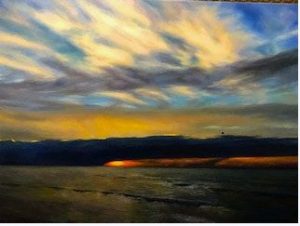 Saturday April 18th POSTPONED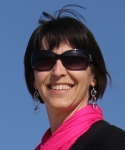 Suzette Terry has been active in the South Central Ontario art scene since graduating from the University of Guelph in 1990 with an Honours Degree in Fine Art and Business. She now resides in beautiful Meaford. Suzette is an integral part of the Paint Ontario team, helping in many capacities to bring the show to fruition. As such, she cannot enter the competition, but her work can be viewed in the show's Host Gallery. Her subjects range from the human figure to vibrant abstract pursuits. Her mediums follow suit, ranging from paintings in both oil and acrylic, to printmaking and animated mixed media collages. It is this shifting of gears from one medium to the next that spurs Suzette to new and innovative discoveries in both technique and content. Her demonstrations are always lots of fun to watch!
Memories of Algonquin in the Rain

Northern Charm

Nature's Reach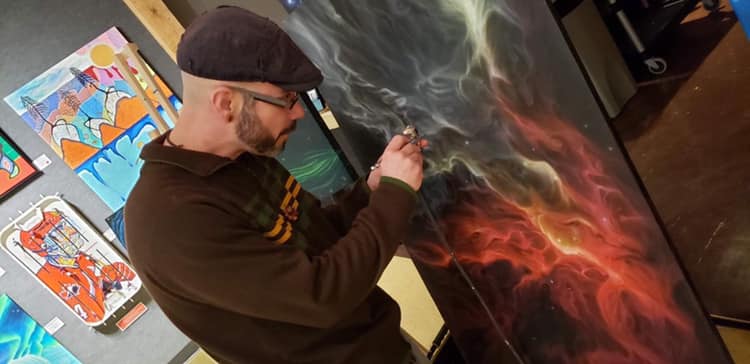 Francis Martin is a French Canadian artist specializing in airbrush and fine art, who currently resides in Watford, Ontario. He has always been passionate to share his love of art. In 2013, Francis opened the Art Shop in downtown Watford, bringing more arts and culture to his community. He is proud to be a self-taught artist who is constantly looking for fresh ideas and new ways to keep the arts alive.
A New Leaf

The Great Northern Guardian