Artist demonstrations have always provided show attendees with the opportunity to witness the creative process 'up close and personal'; however, under the circumstances dictated by physical distancing indoor demonstrations were not possible when the show opened. As alternatives, we have had some pioneering artists produce demonstration videos that you can enjoy in the safety and comfort of your own home. Live demonstrations took place outside on the grounds of the museum.
Layne VanLoo and Elaine Guitar-VanLoo
Not only have these two inspiring artists created online demonstrations for Paint Ontario this year, they also demonstrated their talents outside at the museum.
Elaine and Layne discovered Paint Ontario in 2018 as exhibitors and were so impressed with the entire experience that they returned last year as both exhibitors and demonstrators. Layne's acrylic won last year's Wildlife Choice Award. Not only did they both wow gallery audiences with their demonstrations, Elaine donated her finished painting and it was raffled off (raffle tickets were free with every gallery admittance). She once again offered to do the same with her video demonstration painting this year. Thank-you Elaine! Be sure to visit Layne and Elaine at their website to learn more about the work of these two talented artists: Kingfisher Studio
---
Paul Abeleira
Paul does paint from 'life' and uses oil paint almost exclusively, as a lasting and flexible medium. His paintings are poignant and beautiful – whether it is a female portrait study, a bowl of glistening fruit, or a shiny, familiar can of Coke, all are executed with care and skill. "I am a sucker for anything with shine – metal, glass, water. It's difficult to make something shiny come to life, and I love that challenge." He now teaches other painters, and follows the same passion. "It's rewarding," says Paul, "to help people over their struggle to get a certain effect, like a reflection on water, so that it will really glisten." Paul has worked hard for years to master techniques and is happy to share his secrets with his students so that they can find success too. There is nothing average about Paul Abeleira – anyone who can marry cooking and painting together so seamlessly, and with such fun and passion, deserves a second glance. The name of his website says it all – 'icookandpaint.com'.
Demonstration sponsored by Hay Communications
---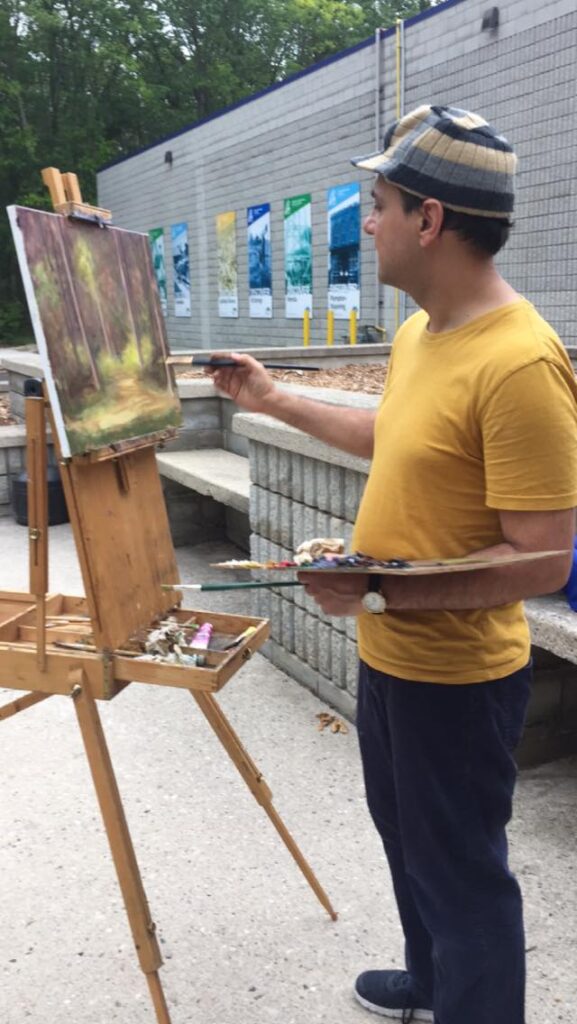 Jamie Jardine
A renowned landscape painter, Jamie has been painting and exhibiting his work in London and surrounding areas for 20 years. He has worked mainly on landscapes but more recently has made a shift to abstraction and minimalism. Jamie studied Fine Art at Fanshawe College from 1996-2000 and is currently a private visual arts teacher as well as a working artist. Throughout his career, Jardine has exhibited works at galleries in Toronto and London, as well as Westland Gallery.
Lately, Jamie has been concentrating on process and materials rather than traditional methods. His new work is quite removed from his previous and expresses a range of emotions, from joy and calmness to anger and frustration.
Demonstration sponsored by Jim and Marg Collez
Jeffrey 'Red' George
"My work reflects my culture and its blessings, along with its inner pains and suffering. My journey through life has led me to my native culture and traditions and the place where I am honoured to share my heart and soul through my artistic gifts of painting and my music with the Native Flute." Jeffrey is an internationally renowned artist whose work hangs in many private homes and public galleries throughout North America and the world. His environmental activities with the Port Franks Optimists gained him a Good Neighbour award in 2019.
Ma-Mi-No-ga-boo: He who stands with the light of the Creator.
Demonstration sponsored by Bob Kennedy
Astra
Astra is another of our pioneering artists who took on the challenge of creating an online demonstration for Paint Ontario, be sure to view her video by visiting the link at the top of this page. She also conducted a live outdoor demonstration on the museum grounds in partnership with artist Chris Cape.
Art created by the need to explore landscapes
---
Simple and direct series exploring large scale abstraction plein air
---
Exploring terrain and painting from canoe, sailboat and ground – large scale (up to 60 ") plein air year round.
Astra has participated in solo and group shows as well as plein air events – winning multiple awards along the way. Her medium is acrylic on canvas and her signature work uses bright, bold colours translating the landscape into shapes.
Winner of Paint Ontario awards in 2018 and 2019, Astra is donating her painting from her demonstration video as a raffle prize this year – receive a free raffle ticket with your entry when you visit Paint Ontario! Thank you Astra!
Chris Cape
Chris Cape is an inspiring artist who accepted the challenge of producing an online demonstration which is so interesting to watch, be sure to view it by visiting the link provided at the top of this page! Chris also did a live presentation outside on the museum grounds in partnership with artist Astra.
Painting and instructing out of Guelph, Ontario, Christopher Cape's work rests upon the longstanding foundation of Canadian landscape painting. Venturing out into the field to collect data, En Plein Air, his interest lies in dissolving the boundaries between our environment and us. Visually exploring the world of subjects and objects, primarily in oil, he works with bold brush strokes extrapolating the key elements of a constantly changing world.
Visit his website for a wealth of information: christophercape.com
'Wood on the Walls' Chainsaw Carving
The brothers from 'Wood on the Walls' in Port Franks wielded their chainsaws outdoors at the museum.
Local artists who create beautiful pieces from wood, the Newton brothers provide a variety of services to anyone looking for some custom wood interior or exterior one of a kind work. The brothers wielded their chainsaws outdoors at the museum and it was a really exciting demonstration!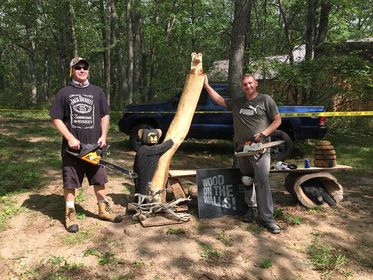 Krystyn Watterworth
Krysten is a painter who works to bring a little more brightness into each passing day. She's been painting diligently from the age of 12 and obtained her BFA from York University. She loves traveling as it allows her to gather inspiration for her paintings. Krystyn has taught hundreds of students in her former studio in Bayfield, which gave her thousands of ideas about how to do things differently. With all of the different challenges students brought to paint, there was constant new learning and discoveries that were made. That is why she loves mixing up styles, genres and subject matter. There are so many ways to make things come alive and Krystyn loves to explore so many of them. Currently she is trying to focus her animals, abstract series, and a bit of Virtual Reality thrown in.
See Krystyn's newest works and see what she's up to on her Instagram @kryart.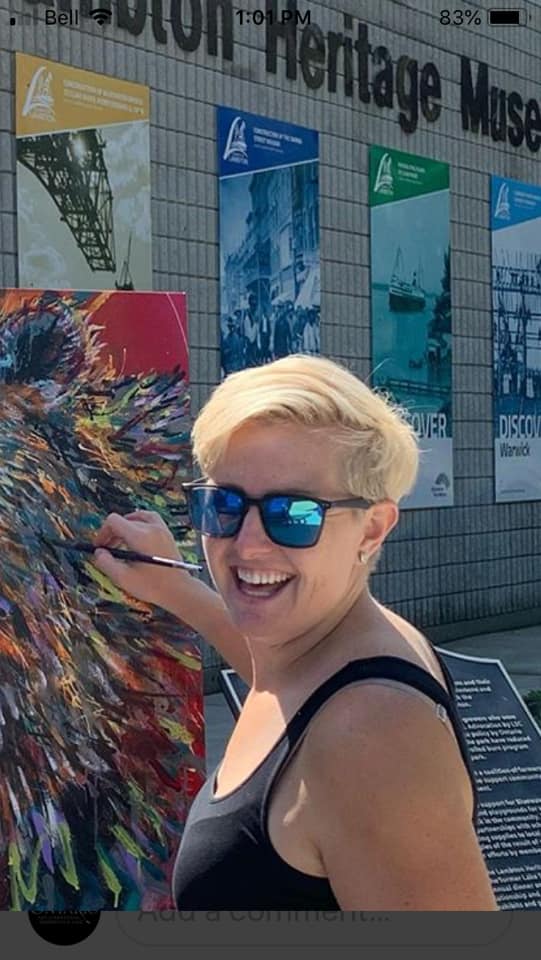 Martina Bruggeman
Martina is an artist creating contemporary images in acrylic on large format gallery wrapped canvas. Her focus is for the viewer to experience a balance of energy and tranquility. Martina was born and raised in South-Western Ontario. She is located in Grand Bend where she works full time as a studio painter. Martina decided in 2007 that becoming a painter was a passion she could no longer ignore. She taught herself to paint through dedicated practice. In the beginning she worked from photographs, but has now moved towards working intuitively and from memory which allows her to focus on creating an image that will convey her love of simplicity and evoke a sense of calm to the viewer. Her subject matter is predominately the Great Lakes. Inspired by the never-ending motion of blues, greens and greys, these elements along with nostalgia give her what she needs to translate her intention.
Denise Antaya
Denise is an award-winning plein air landscape painter and, most recently, a finalist in Makeful TV's "Landscape Artist of the Year Canada" television series.
Denise Antaya was born in Windsor, Ontario in 1959. She has been an artist for as long as she can remember. She had her first serious art show when she was 14 and hasn't stopped painting since. After a 31 year career in Advertising Denise decided it was time to focus on painting landscapes full time. She attended the Academy of Realist Art in Toronto for 3 years and attended various Plein Air workshops.
The everyday themes in Denise Antaya's oil paintings combine her love of nature and her fascination with light and how it transforms an often overlooked scene. With her fearless approach to composition, Denise pushes Realism to just the right balance of detail and poetry. Her subjects range from season to season but almost always represent the natural environment untouched by man. She has the ability to capture a moment, and even transport one back to a quieter, simpler time.
She has many influences, from the Hudson River School Painters to modern day masters such as Marc Hanson, Joseph McGurl and Donald Jurney. Rural scenes, that are wild, overgrown and serene are her subjects.
ArtMuse judge Colin Page's comment on "The Hideaway": "Landscapes are challenging to paint, and even more difficult when this level of detail is involved. The artist does a great job of using a warm palette to unify a complicated and busy scene. These warm colours give the image a glowing effect. I'm also enjoying the variety of edges and looseness of touch, even at this level of rendering the brush seems to play on the canvas."
With over 40 exhibitions across Canada and the United States, her paintings have earned 10 awards, and for the second year in a row two of Denise's paintings were finalists in the ARC (Art Renewal Centre) Salon Competition. She was awarded best landscape in the 12th Annual IGOR Competition (International Guild of Realism). In 2017 she earned an ARC Associate Living Master designation and is working towards her Living Master designation.
Demonstration sponsored by Ed and Judy Fluter
Beth Turnbull Morrish
Potter extraordinaire, Beth Turnbull Morrish produces 'functional ware with flare'!
I am a maker of artifacts. My functional tableware documents the cuisines and customs of my own culture. I create wares that are designed for specific foods, and often embellish the surface with text about ingredients, recipes and cultural traditions. I commemorate how foods and traditions from diverse backgrounds come together and complement one another.
Mealtime brings people together to celebrate our similarities and differences. I strive to honour these dining experiences with attention to detail and exquisite craftsmanship.

My influences include but are certainly not limited to: expressive typography, print design and advertising, etymology, almost everything to do with food, from raw ingredients and recipes to menus and cookbooks, as well as function and industrial design of utilitarian objects.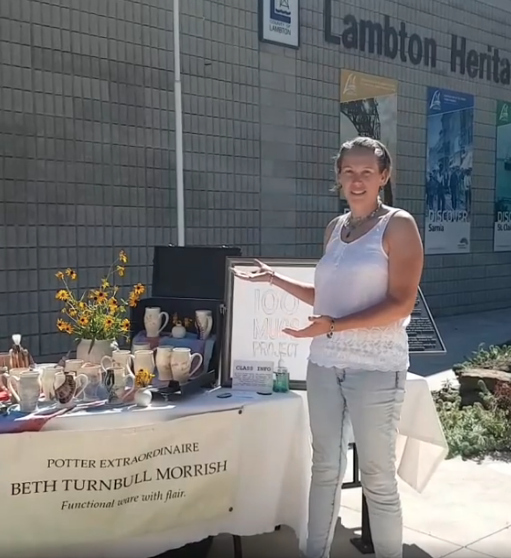 Teresa Marie
Teresa Marie is well known for her skills in portraiture, and demonstrated them by painting as her subject musician Tom Taylor who provided music at the same time – doesn't that sound like so much fun?
Paint Ontario's curator and the Founder and Executive Director of the Grand Bend Art Centre, Teresa Marie is well known in the creative community for her vision, enthusiasm, boundless energy and positive outlook. She continues to expend so much effort on the promotion of art and artists, and serves as inspiration for so many. She's very instrumental in getting young people involved, providing them with opportunities and encouragement to express themselves – be it through visual arts, dramatic arts or music.
Suzette Terry
Another one of our artists who created an online demonstration – be sure to check it out at the link at the top of this page – Suzette did a live presentation outdoors on the museum grounds.
Suzette Terry has been active in the South Central Ontario art scene since graduating from the University of Guelph in 1990 with an Honours Degree in Fine Art and Business. She now resides in beautiful Meaford. Suzette is an integral part of the Paint Ontario team, helping in many capacities to bring the show to fruition. As such, she cannot enter the competition, but her work can be viewed in the show's Host Gallery. Her subjects range from the human figure to vibrant abstract pursuits. Her mediums follow suit, ranging from paintings in both oil and acrylic, to printmaking and animated mixed media collages. It is this shifting of gears from one medium to the next that spurs Suzette to new and innovative discoveries in both technique and content. Her demonstrations are always lots of fun to watch! Visit her on Facebook: https://www.facebook.com/suzette.terry.10
Live Music by Tom Taylor
Local musician Tom Taylor has been bringing joy and music to Grand Bend and area for many years, but his "Tommy T's Travelling Road Show" has been popping up on porches around the community bringing much appreciated entertainment to all during the pandemic! Tom Taylor is a Guitarist, Bandleader, Banjoist, and Vocalist with many years of music and entertainment to his credit. We were thrilled to have him providing live music outside every Thursday of the show's run.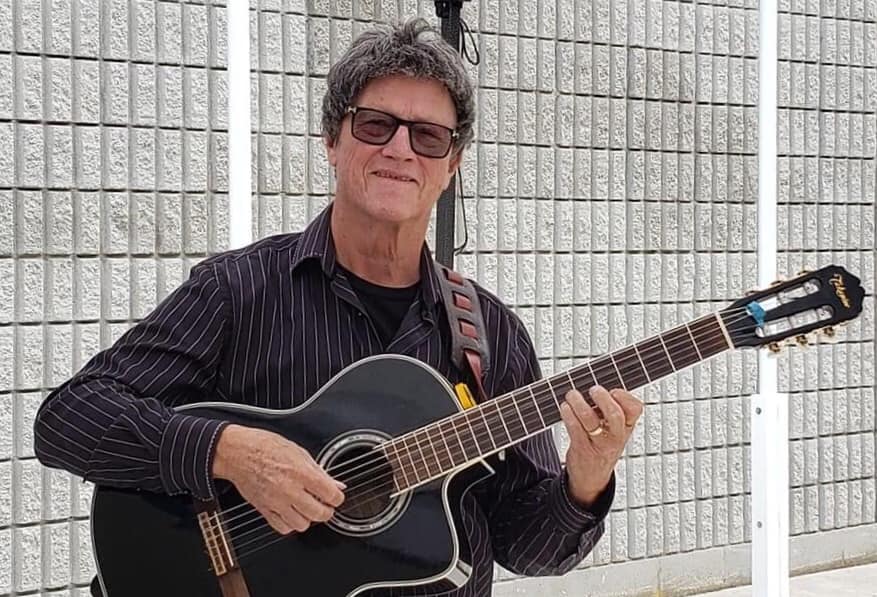 Special demonstrations by artists on our closing day rounded out the show!
Thank you so much to artists Barb McLeod, Eduard Gurevich, Elaine Guitar-vanLoo, Layne vanLoo and Eunice Sims who provided wonderful plein air demonstrations for patrons on our final day!