Artist demonstrations have always provided show attendees with the opportunity to witness the creative process 'up close and personal'; however, under the circumstances dictated by physical distancing this will not be possible when the show opens this year. As an alternative, we have had some pioneering artists produce demonstration videos that you can enjoy in the safety and comfort of your own home.
Layne VanLoo and Elaine Guitar-VanLoo
Elaine and Layne discovered Paint Ontario in 2018 as exhibitors and were so impressed with the entire experience that they returned last year as both exhibitors and demonstrators. Layne's acrylic won last year's Wildlife Choice Award. Not only did they both wow gallery audiences with their demonstrations, Elaine donated her finished painting and it was raffled off (raffle tickets were free with every gallery admittance). She has once again offered to do the same with her video demonstration painting this year. Thank-you Elaine! Be sure to visit Layne and Elaine at their website to learn more about the work of these two talented artists: Kingfisher Studio
---
2019 Wildlife Choice Award "AM At the Cattail Cafe" by Layne van Loo

"Sixteen" Acrylic by Elaine Guitar VanLoo

Elaine creating before our eyes.

Layne working his magic

Elaine's finished painting – a lucky show patron got to take it home.
---
Astra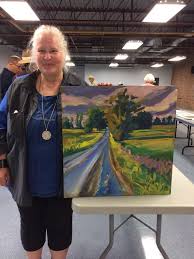 Art created by the need to explore landscapes
---
Simple and direct series exploring large scale abstraction plein air
---
Exploring terrain and painting from canoe, sailboat and ground – large scale (up to 60 ") plein air year round.
Astra has participated in solo and group shows as well as plein air events – winning multiple awards along the way. Her medium is acrylic on canvas and her signature work uses bright, bold colours translating the landscape into shapes.
Winner of Paint Ontario awards in 2018 and 2019, Astra is donating her painting from her demonstration video as a raffle prize this year – receive a free raffle ticket with your entry when you visit Paint Ontario! Thank you Astra!
Chris Cape
Painting and instructing out of Guelph, Ontario, Christopher Cape's work rests upon the longstanding foundation of Canadian landscape painting. Venturing out into the field to collect data, En Plein Air, his interest lies in dissolving the boundaries between our environment and us. Visually exploring the world of subjects and objects, primarily in oil, he works with bold brush strokes extrapolating the key elements of a constantly changing world.
Visit his website for a wealth of information: christophercape.com
Suzette Terry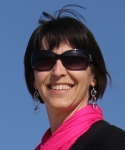 Suzette Terry has been active in the South Central Ontario art scene since graduating from the University of Guelph in 1990 with an Honours Degree in Fine Art and Business. She now resides in beautiful Meaford. Suzette is an integral part of the Paint Ontario team, helping in many capacities to bring the show to fruition. As such, she cannot enter the competition, but her work can be viewed in the show's Host Gallery. Her subjects range from the human figure to vibrant abstract pursuits. Her mediums follow suit, ranging from paintings in both oil and acrylic, to printmaking and animated mixed media collages. It is this shifting of gears from one medium to the next that spurs Suzette to new and innovative discoveries in both technique and content. Her demonstrations are always lots of fun to watch! Visit her on Facebook: https://www.facebook.com/suzette.terry.10
Memories of Algonquin in the Rain

Northern Charm

Nature's Reach