Update: August 28, 2020
We are very excited and busy putting the final touches on the show!
The show will look a bit different for its 24th annual iteration. Instead of painters demonstrating inside the museum as people tour the show of 205 paintings from about 160 artists, Paint Ontario organizers have recorded videos of demonstrations that will be played as part of the show. These can also be accessed online through our website. Others artists, including plein air painters, will demonstrate their craft outside. Outside entertainment on the grounds includes weekly Thursday 4 p.m. to 7 p.m. performances by musician Tom Taylor.
Thirty-five per cent commission from art sales go toward the art centre's classes and music programs in the area. We're hoping our patrons are still going to come out and support us because this is our biggest fundraiser of the year for our community as far as supporting the arts goes.
In the past, it's been an immensely popular show, drawing about 3,000 spectators over three weeks in spring 2019 and selling $104,000 worth of art.
Paint Ontario continues at the museum until Sept. 27. Show hours are Wednesdays to Sundays from 11 a.m. to 4 p.m., with extended hours Thursdays to 8:30 p.m.
It costs $5 per adult to check out the show and sale, including the museum grounds. Timed tickets – 20 time slots per hour – are available for people to check out the artwork. There's no time limit on your stay in the gallery. Most people can go through the show in about a half an hour. Booking in advance is strongly suggested so that you are not disappointed.
YOU CAN BOOK YOUR ENTRY TIME ONLINE OR BY PHONE – CLICK HERE FOR INFORMATION
Update: August 20, 2020
Paint Ontario Art Show and Sale
September 2 – 27, 2020
Paint Ontario is set to open on Wednesday, September 2, with all appropriate COVID-19 precautions and adjustments in place to ensure physical distancing and the full safety of visitors, volunteers and staff at all times,
Show hours are Wednesday to Sunday from 11:00 AM to 4:00 PM daily, with evening extensions to 8:30 PM on Thursdays; closed on Mondays and Tuesdays.
The judges assure Grand Bend Art Centre organisers that artists' work in the 2020 show will delight and inspire visitors, and art collectors will enjoy a wide variety of subjects and styles from which to choose.
Artists' demonstrations and workshops have been pre-recorded and will be played on a rotating basis during the run of the show as well as being available on-line. Additionally, look out for live outdoor demonstrations that will add a new element to the Paint Ontario visitor experience this year.
Thursday evenings promise to be a special time for viewers and purchasers who have busy weekday schedules, with a bonus of outdoor performances by popular local musician Tom Taylor: bring your deck chair!
While there's no opening gala this year, everything else that the public expect at Paint Ontario will be there, and more!
Paint Ontario, including its show-within-a-show "Faces of Ontario", continues to be Ontario's largest Show and Sale of original artwork, a unique opportunity for emerging artists to showcase their work and an unmatched opportunity for buyers to view and acquire it.
Information about how to purchase your timed entry ticket is available here. You can also call 519-243-2600 for information on buying tickets to the event.
Update: August 12, 2020: Winners announced
We are progressing towards our September 2nd opening! Winners in the Places and Faces categories have been announced and we are currently having sponsors for our Sponsor awards come in to make their choices. More prize money to award! Final details of the safeguards and procedures which will be in place are still being worked out and are pending municipal council approval, as are the exact hours of opening. We will provide this information online as it becomes available.
Update: August 6, 2020: We Have Show Dates!
The Lambton Heritage Museum opens September 2nd with Paint Ontario! The show will run September 2 – 27. We are currently in the process of judging the show and the winners will be announced after the winning artists are notified. Award sponsors will be making their choices next week! There are over $7000 in prizes and awards so it's very exciting!
We are waiting on details about how exactly the public will access the show and the hours of operation. These decisions will be made by our venue in accordance with current guidelines under Stage Three reopening.
Artists should expect an email in the near future. Keep checking back for updates here! Thank you to all who have been so patient and 'kept the faith'. We are so honoured and happy to be able to bring this show to the public and display the work of so many incredible artists.
Update: August 2, 2020
When Lambton Shores moved into Stage Two reopening, we utilized the Grand Bend Art Centre to collect accepted work and for pickup of declined work. We have now moved the artwork to the museum and will be hanging the show this week. When the show has been hung, our judges and award sponsors will be able to gain access to make their decisions and we will be awarding prizes! Our area of Ontario has now advanced to Stage Three. As soon as we are given the go ahead to open to the public, with all safety precautions in place, the show will go on at the beginning of September! We anticipate having some dates to share soon, so please check back.
Update: April 29, 2020
The Show WILL go on!
With the prospect of COVID-19 restrictions being eased in the coming weeks, Paint Ontario's hosts, the Grand Bend Art Centre and the Lambton Heritage Museum, are preparing for the show to go ahead! The timing of this will be dependent on directives from the government of Ontario and in strict accordance with the careful re-opening of public facilities. As you are no doubt aware, the situation is changing almost daily and there is no way to know exactly how it will unfold. Dates have yet to be confirmed but the organisers are hoping that an opening sometime in June will be possible; however, we are realistic about the possibility that this timeline might have to be pushed further into the summer.
Of course there will be some changes, including no opening gala, to ensure physical distancing and the full safety of visitors, volunteers and staff at all times. Artists' demonstrations and workshops will be pre-recorded and available on-line as well as being played on a rotating basis during the run of the show.
One thing that hasn't changed is the quality of the paintings: The judges assure us that the 2020 entries are every bit as good as those in last year's widely praised show!
Watch for further updates as plans become known. For more information, contact:
Teresa Marie Phillips 519-859-1662 teresamarie@hay.net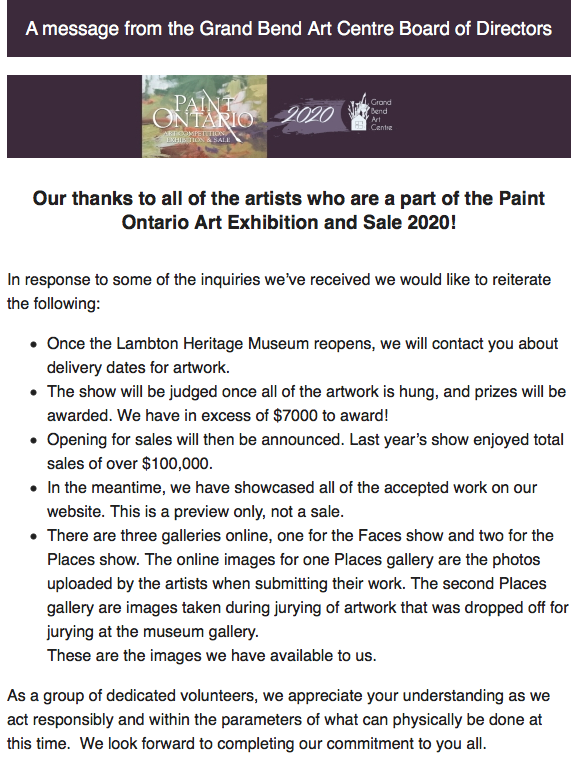 *NOTIFICATION* AS OF 3PM MONDAY MARCH 16:

It comes as no surprise that the Lambton Heritage Museum, our venue, will be closed for the next three weeks. Although we knew it to be inevitable, we had hoped to get the show hung before this happened.

If you have accepted artwork please refrain from delivering it to the museum until further notice, likewise if you need to pick up declined work. The show opening is postponed until we hear that it may proceed. Please be assured that all artwork currently at the museum is safely under lock and key.

The exhibit schedule at LHM is flexible. The Grand Bend Art Centre and the museum are both committed to Paint Ontario and plan to still present a 2020 show, a bit later in the year than normal.

We are working on presenting all of the accepted works in an online gallery on our website, hopefully by the end of this week. It is not inconceivable that we may move to online selling in the future; however, you can imagine that this is not something that can be put in place quickly. We still plan on going ahead with the physical show as per usual.

Please check this website for updates as they become available. Artists, when we have new dates in place we will notify you ASAP by email.

Thank you for your understanding during this difficult time. Please stay healthy and watch out for one another – isn't it great to have more time to create?

Wishing you all the best,

GBAC Board of Directors

For more information, contact
Teresa Marie Phillips, Curator
519-859-1662