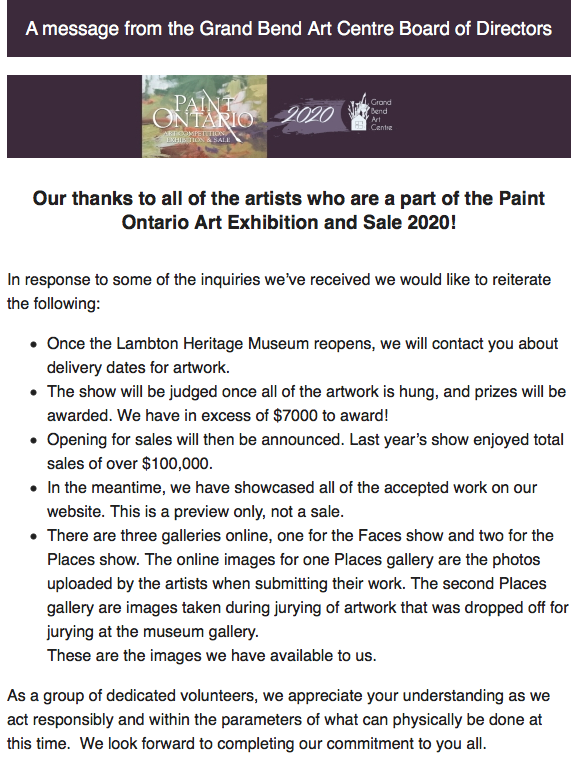 *NOTIFICATION* AS OF 3PM MONDAY MARCH 16:

It comes as no surprise that the Lambton Heritage Museum, our venue, will be closed for the next three weeks. Although we knew it to be inevitable, we had hoped to get the show hung before this happened.

If you have accepted artwork please refrain from delivering it to the museum until further notice, likewise if you need to pick up declined work. The show opening is postponed until we hear that it may proceed. Please be assured that all artwork currently at the museum is safely under lock and key.

The exhibit schedule at LHM is flexible. The Grand Bend Art Centre and the museum are both committed to Paint Ontario and plan to still present a 2020 show, a bit later in the year than normal.

We are working on presenting all of the accepted works in an online gallery on our website, hopefully by the end of this week. It is not inconceivable that we may move to online selling in the future; however, you can imagine that this is not something that can be put in place quickly. We still plan on going ahead with the physical show as per usual.

Please check this website for updates as they become available. Artists, when we have new dates in place we will notify you ASAP by email.

Thank you for your understanding during this difficult time. Please stay healthy and watch out for one another – isn't it great to have more time to create?

Wishing you all the best,

GBAC Board of Directors

For more information, contact
Teresa Marie Phillips, Curator
519-859-1662