Paint Ontario is Ontario's Foremost Show and Sale for Representational Painters
21st annual show,  juried competition and sale at the Lambton Heritage Museum, Grand Bend, Ontario
---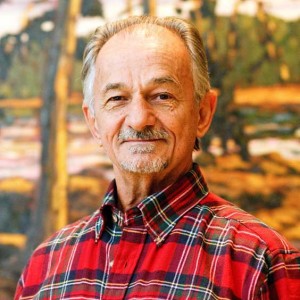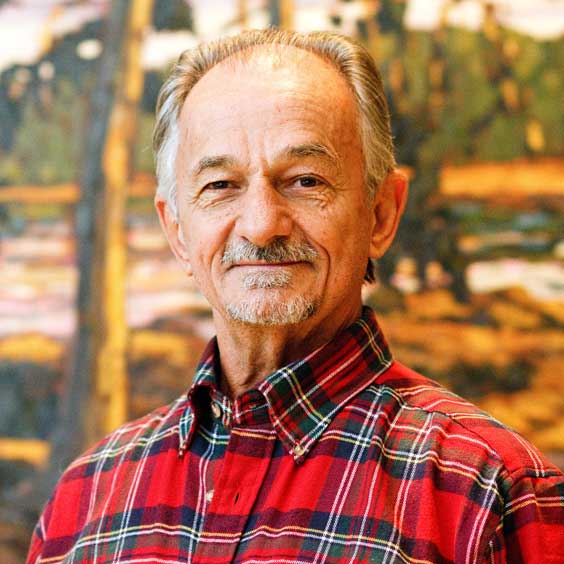 Barry Richman: Founder Paint Ontario 
Barry is a representational artist who has won the highest honour awarded by his peers, the title of Master Pastel Artist. In 1996 he founded Paint Ontario (formerly Paint the Huron Shores) to celebrate the beauty of the province of Ontario and to create opportunity for representational artists to have their work seen, juried, and offered for purchase in a high profile venue.  2015 was the last year for Barry's oversight of Paint Ontario. He handed his enterprise into the hands of the Grand Bend Art Centre.
---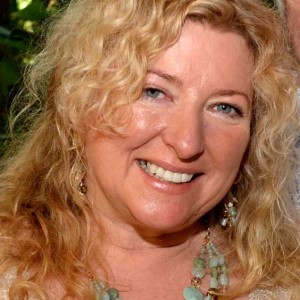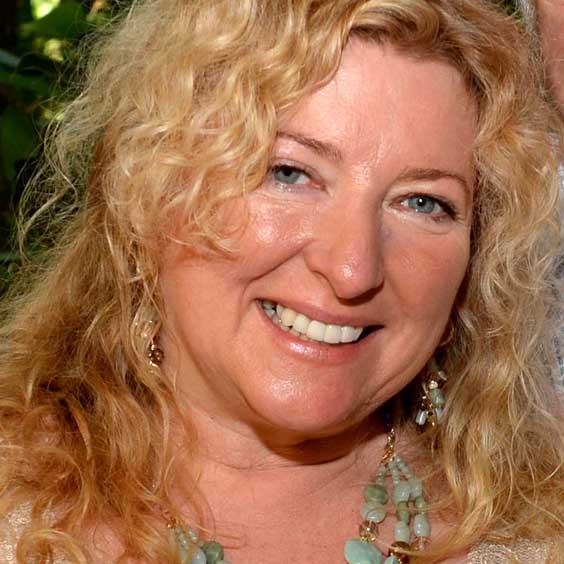 Teresa Marie Founder Grand Bend Art Centre
Artist Teresa Marie Phillips founded the Grand Bend Art Centre in 2008 and, with the addition of a Board of Directors, incorporation, and charitable tax status, became its Executive Director.  She is an original member of the River Road Gallery which was founded in 1996 as an artists' co-op and continued until 2011, when Teresa took over the gallery as sole proprietor and curator. In 2015 she ended her role as gallery owner. Through the GBAC, Teresa devotes time and enthusiasm to bringing a variety of accessible arts  to the Greater Grand Bend community.
---
PAINT ONTARIO TEAM
Greeter: George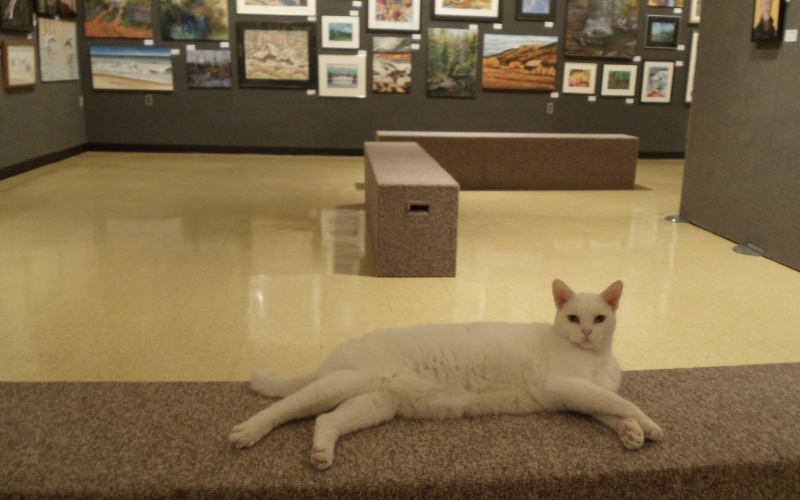 Curator: Teresa Marie Phillips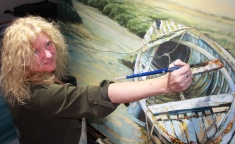 Website and online intake: Harlie Johnston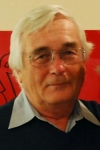 Graphic artist/ publications: Kelli Phillips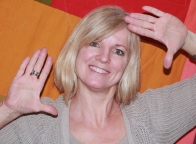 Community Liaison: Nette Pachler


Installation & production:
Jack Winn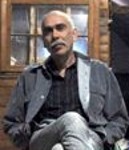 Josy Britton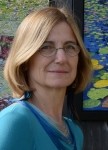 Suzette Terry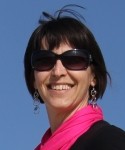 Candice Eason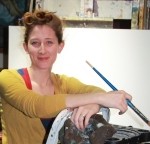 Martina Bruggeman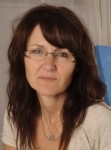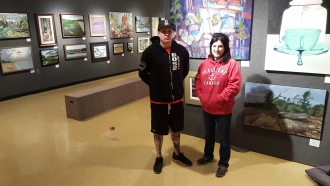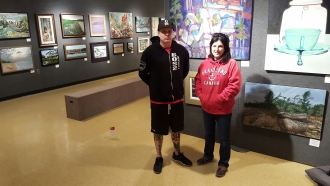 Culinary Team – Erryn Sheppard and Ben Sandwith from F.I.N.E.
---
Kristyn Watterworth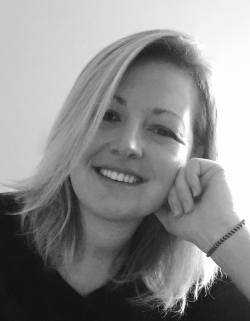 is a Canadian painter who puts questions of time, space, and location at the core of her work. Watterworth uses the painted surface as a map to imagined realities, where genres collide and commingle. In 2008 she completed an Honours BFA specializing in visual art at York University. During her summers, starting in 2004, she took on an applied approach by starting Kryart, a Studio-Gallery in Bayfield, Ontario. It is there that that she learned the art of teaching, painting, and selling her work. Her artwork resides in collections all over Canada, the USA, Australia, and Europe. She has been acting as resident artist in the tech/education company, D2L for the last few winters, developing a sizeable art collection for their office walls. She continues to create, paint, experiment and teach on a daily basis. There is nothing she loves more than to bring colour into the world.
Instagram @kryart
www.kryartstudio.ca
David Sharpe A.C.A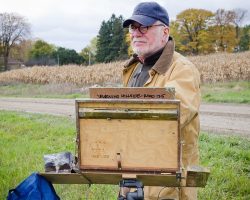 David Sharpe has been painting for over 20 years. He is influenced by the American, British and Russian Impressionist Painters, and has a special affinity for the American Tonalist School of Charles Warren Eaton.
Seeing nature's colours more subtlety than intensely, David says this about his work: "There's no big complicated 'idea' behind my work. It's just all about the light. Seeing it, feeling it and trying to capture it as I see it around me. Compositions with a simple strong design that capture a 'sense of place' also attract me. If my work strikes the same visual and emotional chord in a viewer that it did in me when I painted it, if it can make that viewer see and appreciate a small corner of this fragile planet that they hadn't noticed before, then I've succeeded as a painter."
An Honours graduate in illustration from the Alberta College of Art and Design, he has taught Drawing and Design at The Ontario College of Art and Design University (OCADU), Concordia University, and Capilano College in Vancouver. He has lectured extensively at Queens University, St Lawrence College and Humber College where he sat on the College's Advisory Board. He also has taught plein air painting and drawing for the landscape through Gallery Stratford. His work has won numerous awards at plein air events and exhibitions and is held in private collections in Canada and the USA.
He is also a founding member of the Ontario Plein Air Society (OPAS).
He lives and works in Stratford, Ontario and also from a studio in the Alberta foothills near the ranching town of Cochrane Alberta. His work is represented by Village Studios in Stratford(Ontario)Circle Arts in Tobermory(Ontario), Edge Gallery(Calgary) and Elevation Gallery (Canmore) Alberta.
He will be teaching a 3 day workshop- 'Painting The Emotional Landscape'- from August 3-5 at the beautiful Franciscan Life Centre in Lowell Michigan in the summer of 2017.
Bill Stelpstra and Andrew Smyth – Strand Fine Art Services
Bill Stelpstra and Andrew Smyth started Strand Fine Art Services 34 years ago. Their focus has always been professional
framing with experience and training in design and manufacture. The Gallery at Strand is a direct result of all those years of working with art and artists and a personal passion for art. We were blown away by the high quality of work in the Ontario/Paints exhibition and reaching consensus to choose the winners was quite a challenge. We are both drawn toward colour and abstraction, and our selections reflect that preference.
STRAND FINE ART SERVICES
1161 Florence Street, Unit #4,
London, ON N5W 2M7
226-663-7168
strandaway@hotmail.com
www.strandfineart.com